microRNA Profiling
Confidence in your results. Flexibility in assay design.
---
Features & benefits
Open technology provides flexibility to design your own assay primers

Compatible with both total RNA and microRNA-enriched samples

Detect rare miRNAs - Linear assay performance over a broad range of input RNA

Seamlessly profile hundreds of miRs from a single RT reaction

Eliminates inefficient stem-loop priming and costly hydrolysis probes
Description
The Quantabio qScript microRNA system utilizes a powerful 2-step RT-qPCR reaction (comprised of three components) suitable for miRNA detection from a variety of samples, whether inclusive of total RNA or pre-enriched for microRNAs: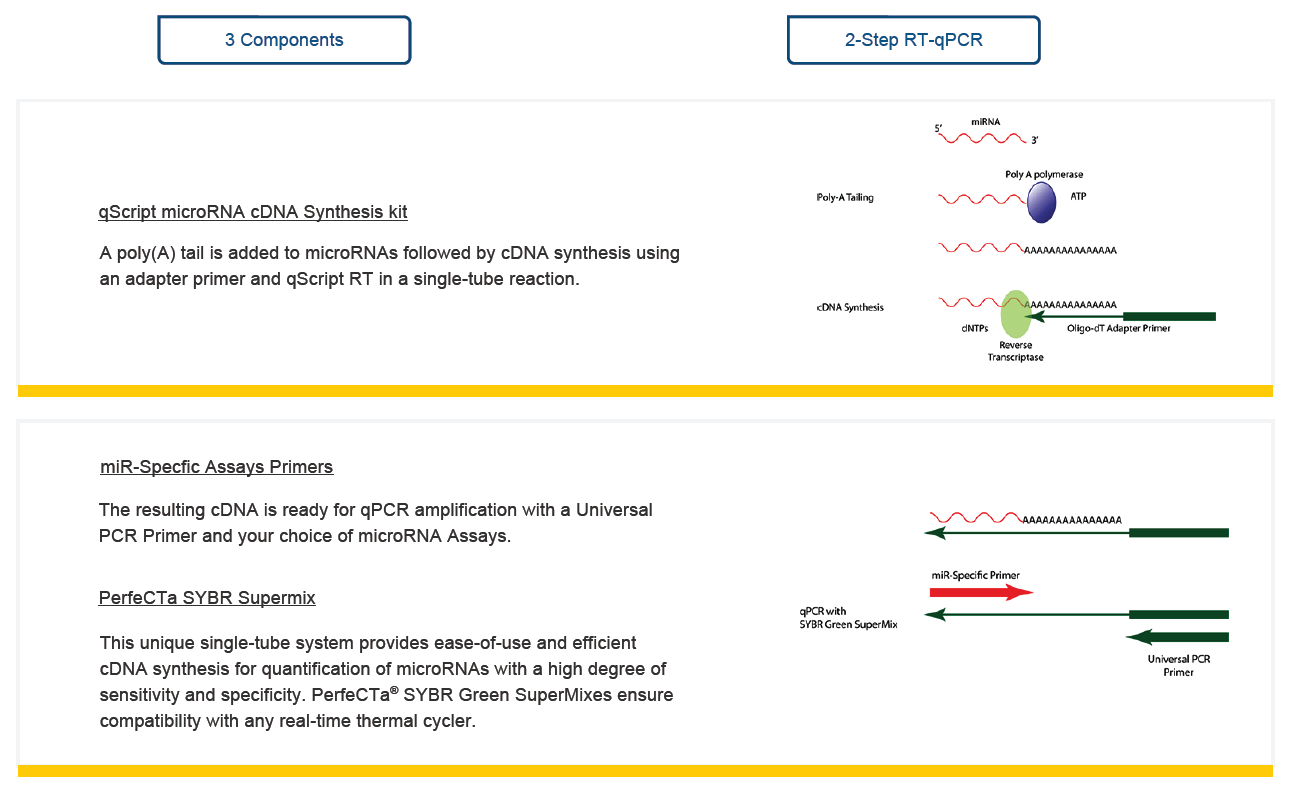 Learn more about how our miRNA system outperformed the competition in a recent Nature methods paper!
---
New! Design your own assays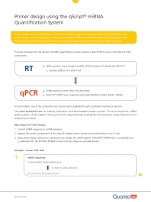 We are pleased to share our technology and guidelines for primer design, to generate your own assays specific to your miRNAs. The sequences to our Oligo-dT Adapter Primer and Universal Primer are now available for free using the tech note. Following this protocol will provide you the necessary primers to work along with the qScript microRNA cDNA kit and PerfeCTa SYBR Green Supermix.
Download the tech note PDF here.
Existing PerfeCTa Assay customers
If you are a former/existing customer of our PerfeCTa miRNA Assays, we are happy to provide you the sequence of your assay so that you can continue ordering it through any vendor of your choice. To download the Excel sheet containing the assay sequences, please click HERE. Use the CTRL-F function within excel to search for your assay of interest and find the corresponding sequence.
System Components
qScript microRNA cDNA Synthesis Kit

An optimized reagent system that provides highly-sensitive reverse transcription of small single-stranded RNA into 5'-labeled universal cDNA using either total RNA or miRNA-enriched template enabling seamless qPCR analysis

PerfeCTa SYBR® Green SuperMix

User-friendly, stabilized 2X concentrated reaction cocktail optimized to produce maximum optical signal from especially small qPCR amplicons. Not recommended for fast thermal cycling conditions (anneal/elongation step <30 seconds)