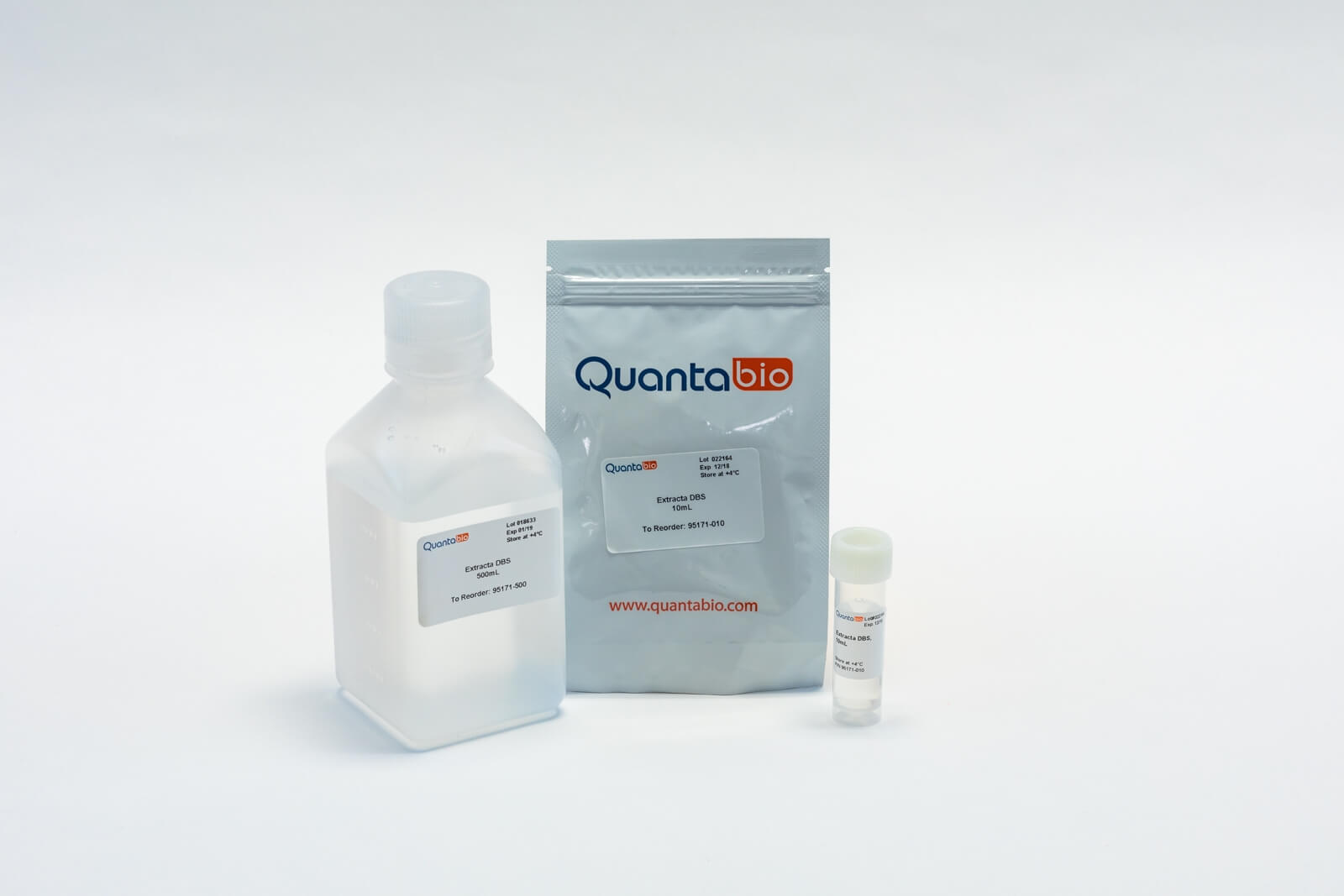 Extracta DBS
PCR-ready genomic DNA from dried blood spots
Features & Benefits
Optimized for DNA extraction from dried blood spot punches
Single reagent for PCR-ready DNA in 30 minutes
Maximized assay sensitivity, lower Cq values, when combined with Quantabio ToughMix®
Compatible with high-throughput automation for PCR, qPCR and NGS applications
Extracta DBS is intended for molecular biology applications. This product is not intended for the diagnosis, prevention or treatment of a disease.
Product
Kit Size
Order Info
Product
Kit Size
Order Info
Description
Extracta DBS is a ready-to-use DNA extraction reagent for rapid and efficient recovery of PCR-ready DNA from dried blood spots (DBS) on Guthrie cards or Whatman 903 filter paper. This patented single-solution process produces DNA eluates that are substantially free of PCR inhibitors and compatible with a variety of end-point PCR, real-time PCR and Next Generation Sequencing (NGS) or Sanger Sequencing (1-3) reagents. Application of Extracta DBS with PerfeCTa® qPCR ToughMix or PerfeCTa MultiPlex qPCR ToughMix enables accurate and reproducible quantification of DNA sequences in blood using TaqMan® hydrolysis probe real-time qPCR.
Combine with ToughMix and maximize qPCR assay sensitivity
Extracta DBS is the perfect match with Quantabio ToughMix for sensitive and precise target quantification. The crude extraction combined with ToughMix, a Quantabio master mix that is tolerant to common PCR inhibitors, results in higher DNA yields independent of DNA sample inputs and qualities to enable accurate detection and high sensitivity even with low copy targets.
Reliable, Consistent Lot-to-Lot Performance
Low amounts and quality of DNA recovered from dried blood spots commonly restrict the utilization of DNA. To overcome these limitations, Extracta DBS increases the yield and quality allowing for efficient and reliable recovery of DNA from dried blood spots. Manufactured under stringent quality standards, Extracta DBS ensures uniform lot-to-lot performance resulting in reliable reproducibility in combination with Quantabio ToughMix.
Details
Storage & Handling
Extracta DBS is stable for up to 2 years at 2-8°C. Please consult the product box label for expiration date information.
Performance Data
TREC Control Sample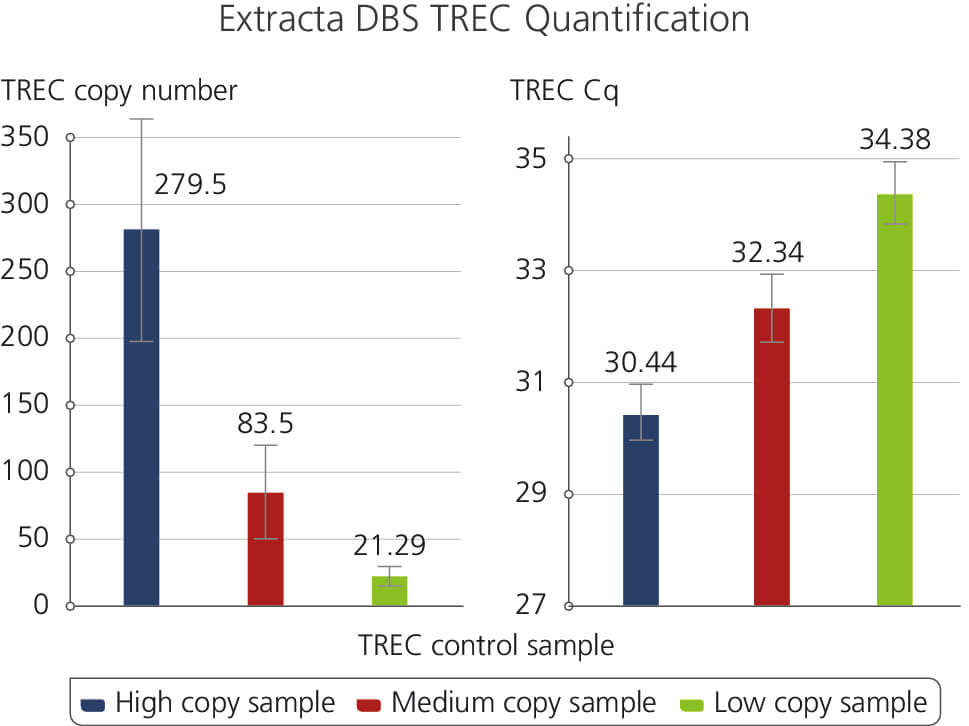 Illustrates the results of a T-cell Receptor Excision Circles (TREC) Assay using Extracta DBS and PerfeCTa ToughMix. Samples were generated using dried blood spot punches following the Extracta DBS protocol and used subsequently for quantification of T-cell Receptor Excision Circles. The samples are representatives of High, Medium and Low TREC copy numbers along with the corresponding Cq values.
Different Extracta DBS preparation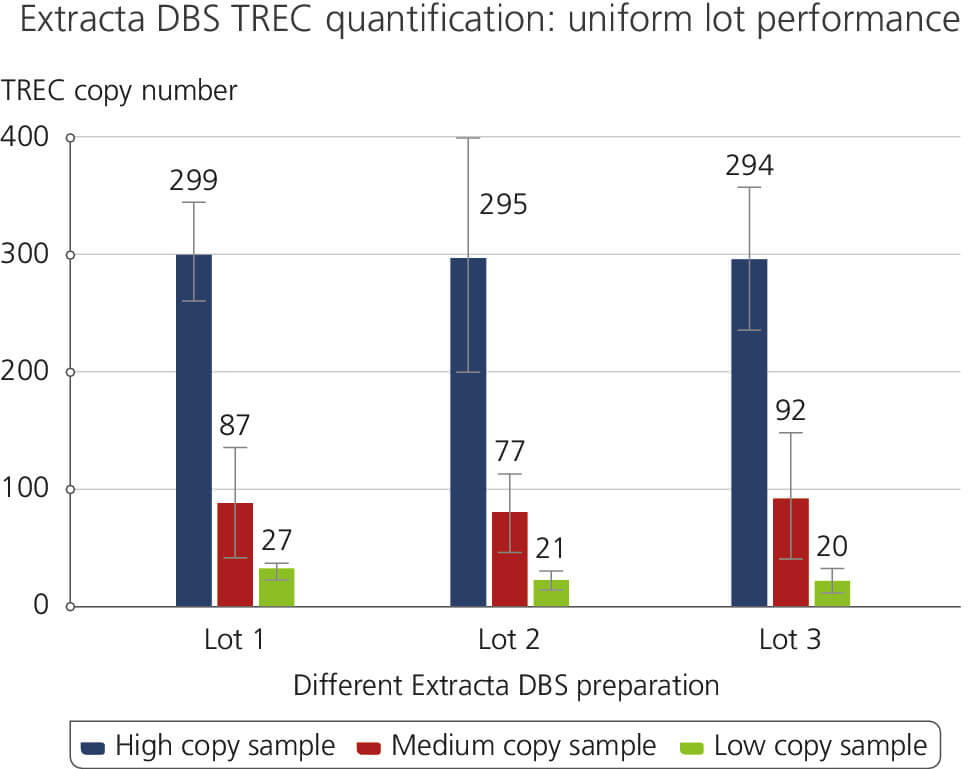 This figure demonstrates consistent lot-to-lot performance in a TREC quantification assay using genomic DNA extracted from dried blood spots. Lot-to-lot performance was tested for High, Medium and Low copy number TREC samples. The results highlight the reliability and reproducibility across various product lots which are attributed to Quantabio's high manufacturing and production standards under ISO 13485.
Fast, single solution extraction workflow in 30 min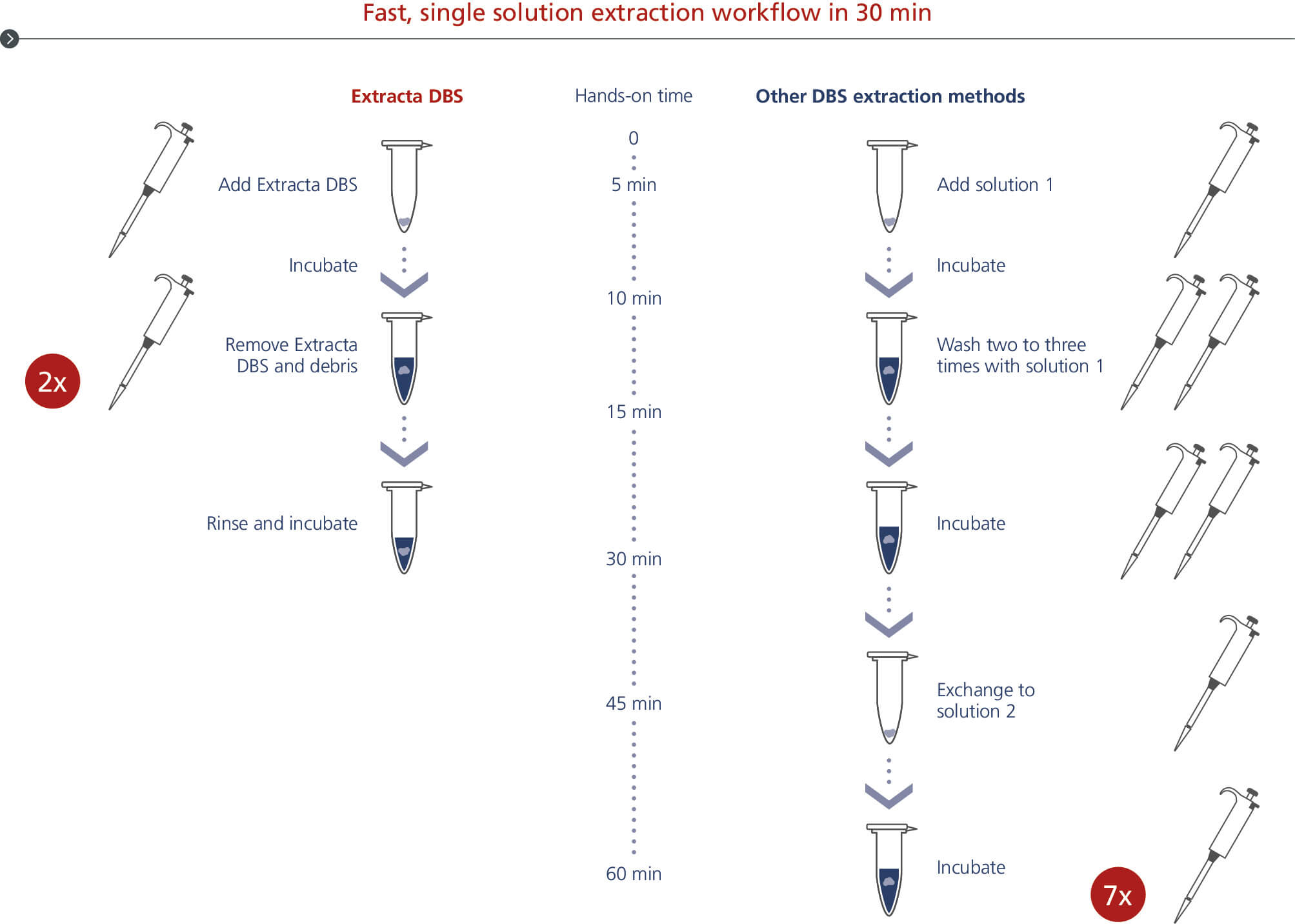 Extracta DBS DNA extraction from dried blood spots workflow. PCR-ready DNA is eluated from dried blood spots with less handling in 30 minutes.
Resources
FAQs
Click here to see all FAQs
Publications
Detection of Cytomegalovirus in Urine Dried on Filter Paper
Abstract
Urine is the best specimen for the diagnosis of congenital cytomegalovirus, but collection and processing of liquid urine are impractical for screening. Urine dried on filter paper was processed by the same convenient, low-cost method used by newborn screening to test blood spots and showed high sensitivity and specificity. To explore low cost, high-throughput methods to diagnose congenital cytomegalovirus infection (cCMV), we processed CMV-positive urine dried on filter paper by the same method used for processing blood spots for newborn screening. The results showed high sensitivity and specificity. Congenital cytomegalovirus (cCMV) infection is a leading cause of disability worldwide, occurring in approximately 0.4%–0.6% of live births [1]. There has been an increasing interest in universal newborn screening for cCMV due to the benefits of antiviral treatment and early intervention for hearing loss which improve outcomes. The best method for CMV screening remains unclear with saliva, urine, and dried blood spots (DBS) under investigation. Saliva and urine specimens both provide excellent sensitivity for diagnostic testing. Saliva swabs are convenient to collect, store, and transport. However, saliva testing lacks infrastructure for processing, and typically 8%–15% of positive results can be false-positive most likely from CMV in breast milk, requiring that saliva results are confirmed with urine testing [2–4]. DBS are already collected on nearly all newborns and show high specificity for CMV testing but to date have not shown adequate sensitivity. Urine testing offers better sensitivity and specificity than saliva and remains the gold standard specimen for diagnosing cCMV [4–6]. However, liquid urine is difficult to collect and, like saliva, has no infrastructure for large-scale testing. The present study examined whether urine dried on filter paper could be processed with the same streamlined procedures used for DBS in newborn screening.
Newborn Screening for Severe Combined Immunodeficiency Using the Multiple of the Median Values of T-Cell Receptor Excision Circles
Abstract
All newborn screening programs screen for severe combined immunodeficiency by measurement of T-cell receptor excision circles (TRECs). Herein, we report our experience of reporting TREC assay results as multiple of the median (MoM) rather than using conventional copy numbers. This modification simplifies the assay by eliminating the need for standards with known TREC copy numbers. Furthermore, since MoM is a measure of how far an individual test result deviates from the median, it allows normalization of TREC assay data from different laboratories, so that individual test results can be compared regardless of the particular method, assay, or reagents used.
Assessing the Performance of Dried-Blood-Spot DNA Extraction Methods in Next Generation Sequencing
Abstract
An increasing number of newborn screening laboratories in the United States and abroad are moving towards incorporating next-generation sequencing technology, or NGS, into routine screening, particularly for cystic fibrosis. As more programs utilize this technology for both cystic fibrosis and beyond, it is critical to identify appropriate DNA extraction methods that can be used with dried blood spots that will result in consistent, high-quality sequencing results. To provide comprehensive quality assurance and technical assistance to newborn screening laboratories wishing to incorporate NGS assays, CDC's Newborn Screening and Molecular Biology Branch designed a study to evaluate the performance of nine commercial or laboratory-developed DNA extraction methods that range from a highly purified column extraction to a crude detergent-based no-wash boil prep. The DNA from these nine methods was used in two NGS library preparations that interrogate the CFTR gene. All DNA extraction methods including the cruder preps performed reasonably well with both library preps. One lower-concentration, older sample was excluded from one of the assay evaluations due to poor performance across all DNA extraction methods. When 84 samples, versus eight, were run on a flow cell, the DNA quality and quantity were more significant variables.
Customer Testimonials
Extracta DBS
"The simple and elegant way to unlock genetic information"