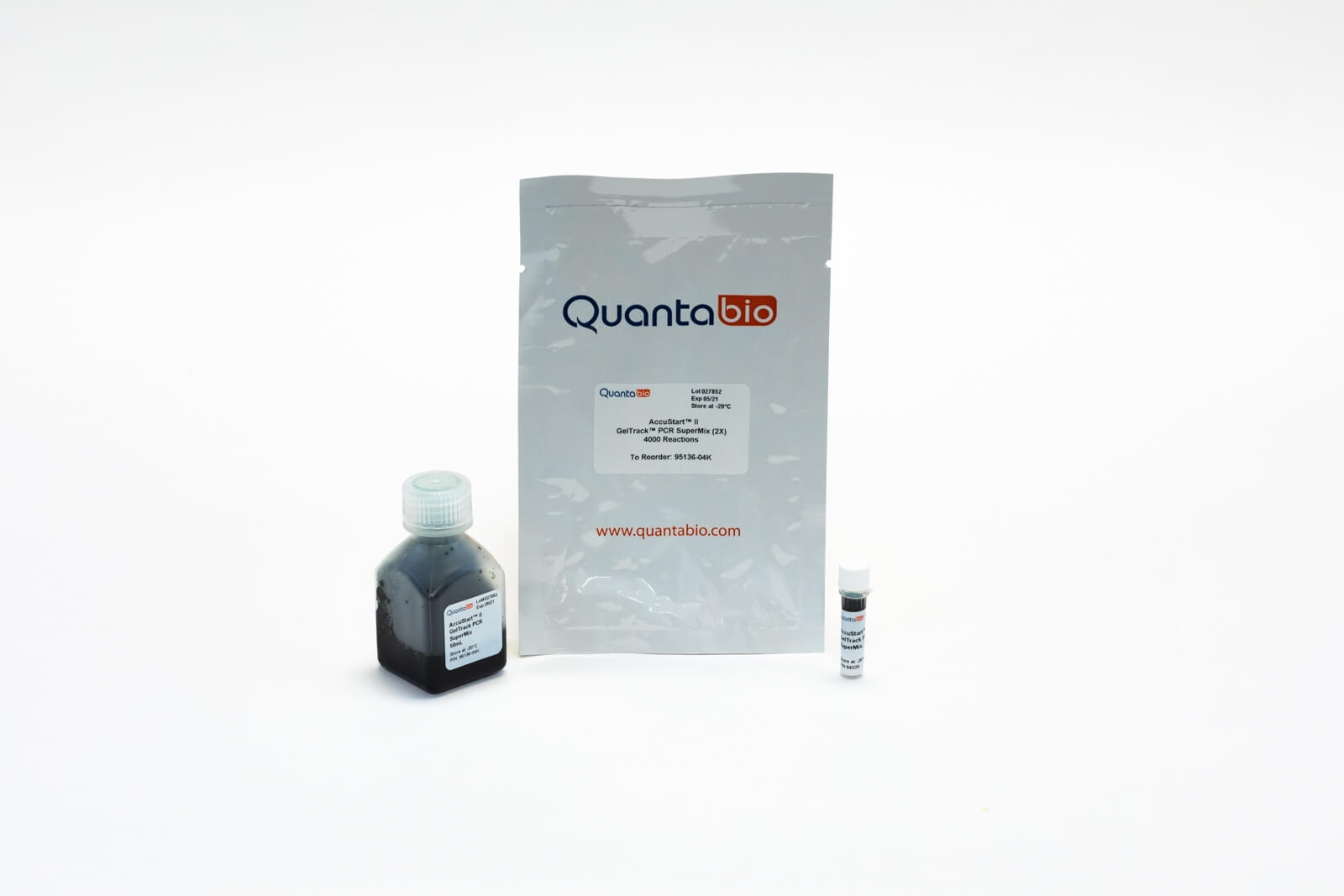 AccuStart II GelTrack® PCR SuperMix
Features & Benefits
Contains premixed loading dye to streamline gel electrophoresis
User-friendly 2X concentrated master mix simplifies reaction setup with exceptional room-temperature stability (≥30 days at 22°C) and withstands to repetitive freeze-thaw (≥ 20X)
High-yielding, ultrapure modified Taq DNA polymerase delivers robust, reliable assay sensitivity
Stringent, ultrapure antibody hotstart ensures 

sensitive

 and 

precise

 assay performance
Product
Kit Size
Order Info
Product
Kit Size
Order Info
AccuStart II GelTrack PCR SuperMix
100 x 25 µL rxns (1 x 1.25 mL)
500 x 25 μL rxns (5 x 1.25 mL)
4000 x 25 μL rxns (1 x 50 mL)
Description
AccuStart II GelTrack® PCR SuperMix is a 2X concentrated, ready-to-use reaction cocktail for routine PCR amplification of DNA fragments up to 4 kb. It contains all components, except primers and template. This kit improves assay reproducibility, and reduces the risk of contamination. A key component is AccuStart II Taq DNA polymerase which contains ultra-pure monoclonal antibodies that arrest polymerase prior to the initial PCR denaturation step. Hot start antibodies are rapidly and irreversibly denatured (1 minute at 94ºC), releasing a high yielding Taq DNA polymerase mutant with absolute maximum processivity and velocity from the first cycle. This enables specific and efficient primer extension with the convenience of room temperature reaction assembly.
GelTrack Loading Dye is a mixture of blue and yellow electrophoresis-tracking dyes that migrate at approximately 4kb and 50 bp, and comes pre-mixed with the PCR reagents.
Details
Details
Contents
2X reaction buffer containing
MgCl

2

 (3 mM)
dATP, dCTP, dGTP, dTTP (0.4 mM each)
AccuStart II Taq DNA Polymerase
GelTrack loading dye and stabilizers.
Storage & Handling
Details
Contents
2X reaction buffer containing
MgCl

2

 (3 mM)
dATP, dCTP, dGTP, dTTP (0.4 mM each)
AccuStart II Taq DNA Polymerase
GelTrack loading dye and stabilizers.
Storage & Handling
Resources
Publications
The effect of a mass distribution of insecticide-treated nets on insecticide resistance and entomological inoculation rates of Anopheles gambiae s.l. in Bandundu City, Democratic Repub`lic of Congo
Abstract
Introduction insecticide-treated nets (ITNs) remain the mainstay of malaria vector control in the Democratic Republic of Congo. However, insecticide resistance of malaria vectors threatens their effectiveness. Entomological inoculation rates and insecticide susceptibility in Anopheles gambiae s.l. were evaluated before and after mass distribution of ITNs in Bandundu City for possible occurrence of resistance. Methods a cross-sectional study was conducted from 15th July 2015 to 15th June 2016. Adult mosquitoes were collected using pyrethrum spray catches and human landing catches and identified to species level and tested for the presence of sporozoites. Bioassays were carried out before and after distribution of ITNs to assess the susceptibility of adult mosquitoes to insecticides. Synergist bioassays were also conducted and target site mutations assessed using Polymerase chain reaction (PCR). Results a total of 1754 female An. gambiae s.l. were collected before and after deployment of ITNs. Fewer mosquitoes were collected after the distribution of ITNs. However, there was no significant difference in sporozoite rates or the overall entomological inoculation rate before and after the distribution of ITNs. Test-mosquitoes were resistant to deltamethrin, permethrin, and Dichlorodiphenyltrichloroethane but susceptible to bendiocarb. Pre-exposure of mosquitoes to Piperonyl butoxide increased their mortality after exposure to permethrin and deltamethrin. The frequency of the Kinase insert domain receptor (kdr)-West gene increased from 92 to 99% before and after the distribution of nets, respectively. Conclusion seasonal impacts could be a limiting factor in the analysis of these data; however, the lack of decrease in transmission after the distribution of new nets could be explained by the high-level of resistance to pyrethroid.
SYK Inhibition Potentiates the Effect of Chemotherapeutic Drugs on Neuroblastoma Cells In Vitro
Abstract
Neuroblastoma is a malignancy arising from the developing sympathetic nervous system and the most common and deadly cancer of infancy. New therapies are needed to improve the prognosis for high-risk patients and to reduce toxicity and late effects. Spleen tyrosine kinase (SYK) has previously been identified as a promising drug target in various inflammatory diseases and cancers but has so far not been extensively studied as a potential therapeutic target in neuroblastoma. In this study, we observed elevated SYK gene expression in neuroblastoma compared to neural crest and benign neurofibroma. While SYK protein was detected in the majority of examined neuroblastoma tissues it was less frequently observed in neuroblastoma cell lines. Depletion of SYK by siRNA and the use of small molecule SYK inhibitors significantly reduced the cell viability of neuroblastoma cell lines expressing SYK protein. Moreover, SYK inhibition decreased ERK1/2 and Akt phosphorylation. The SYK inhibitor BAY 61-3606 enhanced the effect of different chemotherapeutic drugs. Transient expression of a constitutive active SYK variant increased the viability of neuroblastoma cells independent of endogenous SYK levels. Collectively, our findings suggest that targeting SYK in combination with conventional chemotherapy should be further evaluated as a treatment option in neuroblastoma.