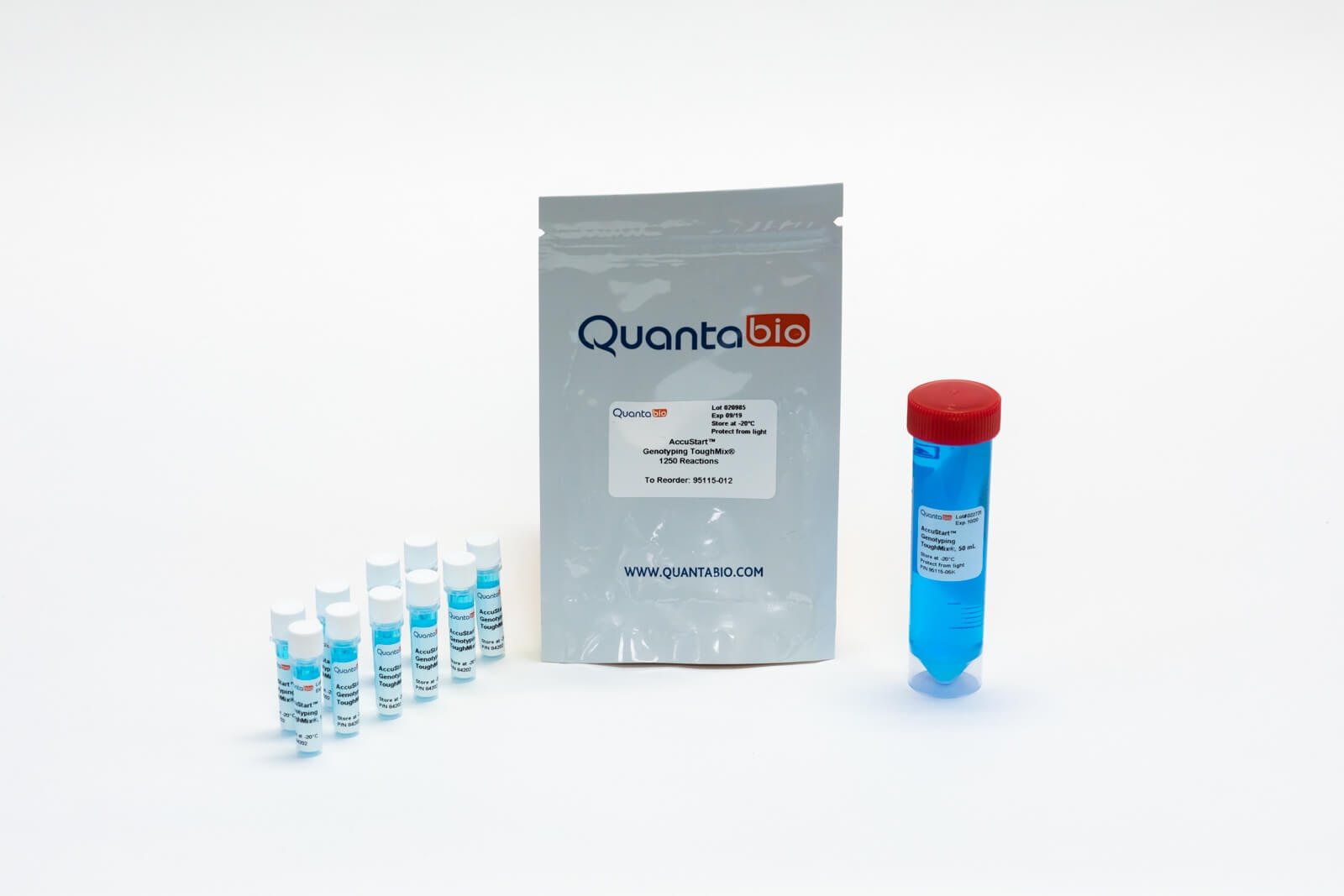 AccuStart Genotyping ToughMix
enables probe-based genetic analysis (SNP detection and allelic discrimination) directly from crude extracts, DBS punches, plant tissue and clinical specimens
Features & Benefits
Optimized buffer chemistry destabilizes single base-pair mismatch probes, providing superior allelic discrimination and improved cluster separation for critical, single-nucleotide polymorphism (SNP) detection assays
Sensitive, precise detection with ultrapure AccuStart II enzyme technology – maximum-yielding Taq DNA polymerase mutant controlled by stringent, multi-epitope antibody hotstart
ToughMix reagent technology neutralizes a broad spectrum of PCR inhibitors common in plant and animal tissues, environmental sources, clinical specimens and complex food matrices
Easy-to-use 2x concentrated SuperMix with AccuVue plate loading dye and pre-blended passive reference dye simplifies reaction setup
Supports efficient vortex mixing with proprietary anti-foaming technology
Genotyping ToughMix is intended for molecular biology applications. This product is not intended for the diagnosis, prevention or treatment of a disease.
Product
Kit Size
Order Info
Product
Kit Size
Order Info
1250 x 20 μL rxns (10 x 1.25 mL)
5000 x 20 μL rxns (1 x 50 mL)
Product
Kit Size
Order Info
Genotyping ToughMix Low ROX
1250 x 20 μL rxns (10 x 1.25 mL)
5000 x 20 μL rxns (1 x 50 mL)
Description
Genotyping ToughMix is a 1-tube qPCR SuperMix reagent compatible with all dual-label (hydrolysis) probe chemistries for both fast and conventional PCR cycling protocols or instruments. This proprietary formulation has been rigorously optimized to destabilize single base-pair mismatches to ensure precise allelic discrimination and cluster separation with SNP detection assays. The reagent is provided as a 2x concentrated ready-to-use reaction cocktail that contains all required reaction components, except primers, probe(s), and DNA template. Inert AccuVue plate loading dye helps to minimize pipette error and provides visual confirmation of thorough mixing.
Details
Contents
Single-tube, 2X concentrated reagent containing:
Reaction buffer with optimized concentrations of molecular-grade MgCl

2

, dATP, dCTP, dGTP, dTTP.
AccuStart II Taq DNA Polymerase.
Inert AccuVue dye.
Proprietary enzyme stabilizers and performance-enhancing additives.
Titrated reference dye (if applicable).
Storage & Handling
Instrument Capability
ROX
Applied Biosystems 5700
Applied Biosystems 7000
Applied Biosystems 7300
Applied Biosystems 7700
Applied Biosystems 7900
Applied Biosystems 7900HT
Applied Biosystems 7900 HT Fast
Applied Biosystems StepOne™
Applied Biosystems StepOnePlus™
Low ROX
Applied Biosystems 7500
Applied Biosystems 7500 Fast
Stratagene Mx3000P®
Stratagene Mx3005P™
Stratagene Mx4000™
Applied Biosystems ViiA 7
Applied Biosystems QuantStudio™ (all models)
Agilent AriaMx
Douglas Scientific IntelliQube®
No ROX
Quantabio Q
BioRad CFX
Roche LightCycler 480
QIAGEN Rotor-Gene Q
Other
Bio-Rad iCycler iQ systems
BioRad iCycler iQ™
BioRad MyiQ™
BioRad iQ™5
Performance Data
Comparison to conventional master mixes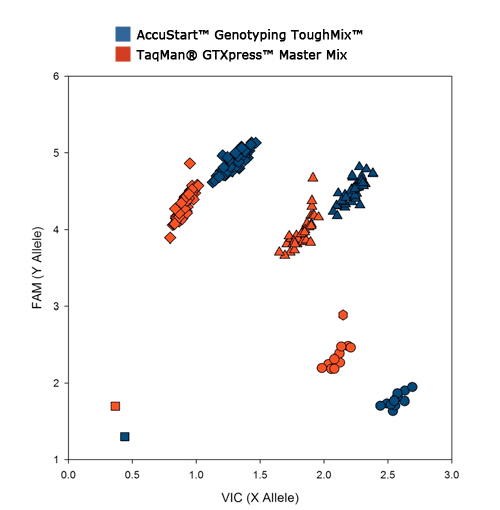 AccuStart Genotyping ToughMix stands up to the challenge where other genotyping master mixes fall apart. ToughMix can be used with clean templates where it generates higher fluorescent signal and tighter clusters than the leading competitors mix.
Comparison to conventional master mixes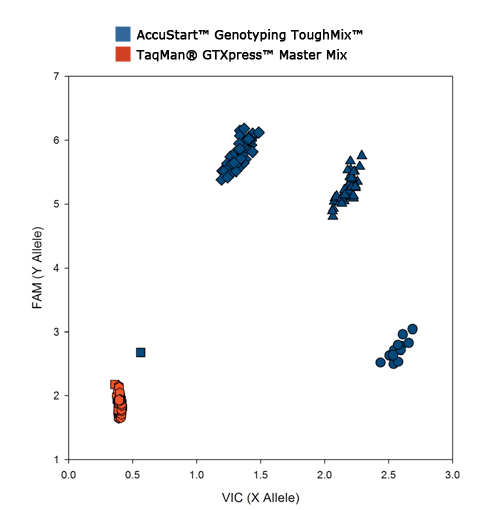 In the presence of a common PCR inhibitor, humic acid (50ng/l), the competitors system is completely shut down while ToughMix delivers robust, accurate results
Resources
Publications
RIPK1 or RIPK3 deletion prevents progressive neuronal cell death and improves memory function after traumatic brain injury
Abstract
Traumatic brain injury (TBI) causes acute and subacute tissue damage, but is also associated with chronic inflammation and progressive loss of brain tissue months and years after the initial event. The trigger and the subsequent molecular mechanisms causing chronic brain injury after TBI are not well understood. The aim of the current study was therefore to investigate the hypothesis that necroptosis, a form a programmed cell death mediated by the interaction of Receptor Interacting Protein Kinases (RIPK) 1 and 3, is involved in this process. Neuron-specific RIPK1- or RIPK3-deficient mice and their wild-type littermates were subjected to experimental TBI by controlled cortical impact. Posttraumatic brain damage and functional outcome were assessed longitudinally by repetitive magnetic resonance imaging (MRI) and behavioral tests (beam walk, Barnes maze, and tail suspension), respectively, for up to three months after injury. Thereafter, brains were investigated by immunohistochemistry for the necroptotic marker phosphorylated mixed lineage kinase like protein(pMLKL) and activation of astrocytes and microglia. WT mice showed progressive chronic brain damage in cortex and hippocampus and increased levels of pMLKL after TBI. Chronic brain damage occurred almost exclusively in areas with iron deposits and was significantly reduced in RIPK1- or RIPK3-deficient mice by up to 80%. Neuroprotection was accompanied by a reduction of astrocyte and microglia activation and improved memory function. The data of the current study suggest that progressive chronic brain damage and cognitive decline after TBI depend on the expression of RIPK1/3 in neurons. Hence, inhibition of necroptosis signaling may represent a novel therapeutic target for the prevention of chronic post-traumatic brain damage.
Development and optimization of a simian immunodeficiency virus (SIV) droplet digital PCR (ddPCR) assay
Abstract
Accurate and sensitive quantification of rebound competent HIV that persists despite combination antiretroviral treatment (cART), including in latently infected cells (i.e., viral reservoir), is critical for evaluating cure strategies for decreasing or eliminating this reservoir. Simian immunodeficiency virus (SIV)-infected Rhesus macaques are an important non-human primate (NHP) system for studying potential cure strategies as they model many key aspects of human HIV-infection including the persistence of a latent viral reservoir in resting memory CD4+ T cells in animals receiving prolonged cART. In this report, we describe the design and testing of a sensitive SIV droplet digital PCR (ddPCR) assay through exploring the combination and optimization of different probe systems (including single, double quencher probes and minor groove binder (MGB) probes) and reaction conditions to eliminate background signal(s), ensure distinct target signal cluster separation from non-target signals, and enable detection and quantification of low level authentic target signals. Similar reaction conditions and assay validation procedures can be explored for potential development of additional assays for other applications that require sensitive detection of low-level targets in a large background of nucleic acid input derived from cell or tissue sources.