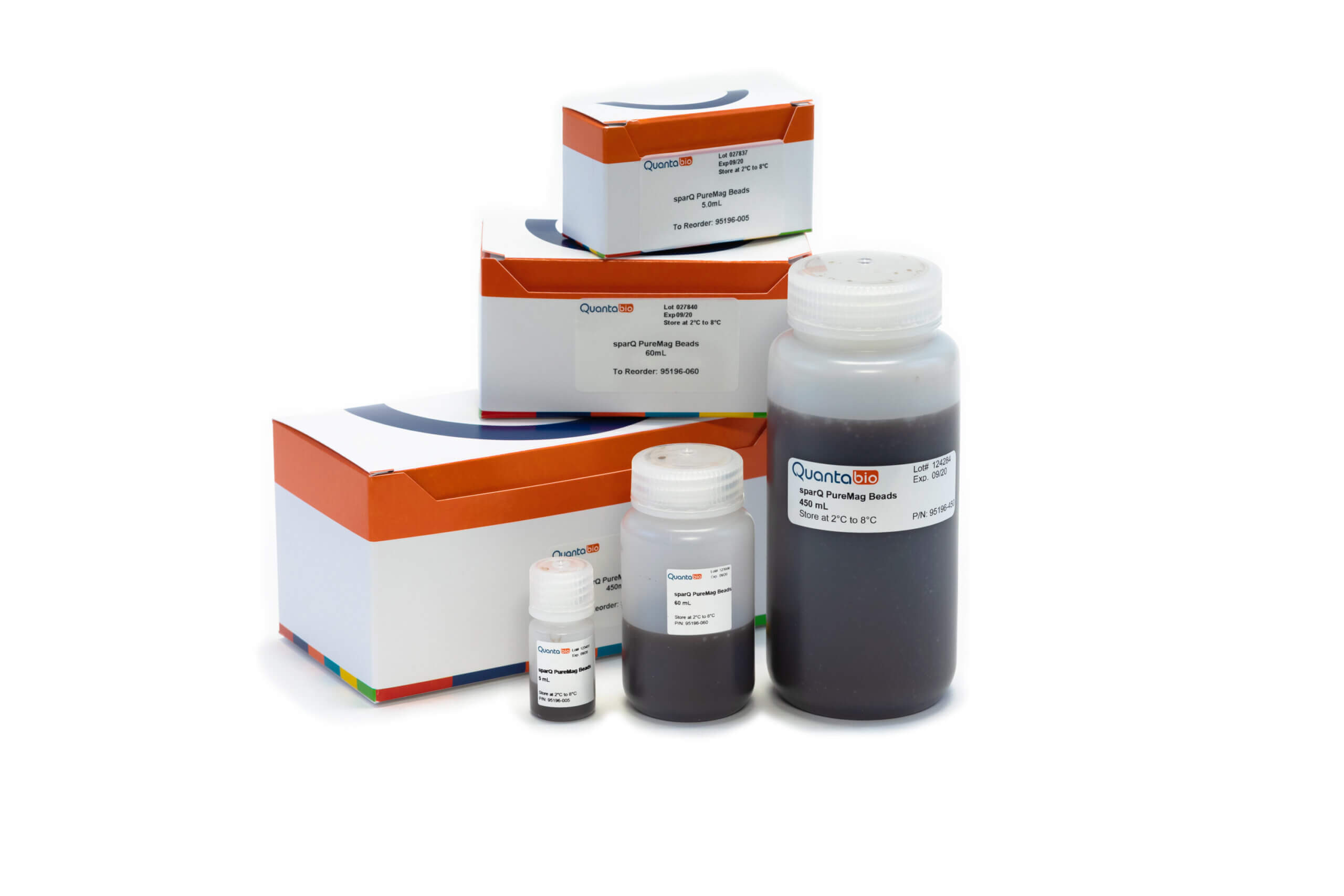 sparQ PureMag Beads
Fast, reliable nucleic acid clean-up & size selection for NGS workflows
Features & Benefits
High recovery of DNA fragments greater than 100 bp
Efficient removal of unwanted components from adapter ligation and PCR reactions
Consistent single or double-sided size selection
Seamless integration into existing NGS workflows with little or no protocol change
Easy-to-use and compatible with manual processing or automated liquid handling robots
Cost effective alternative to AMPure® XP with equivalent performance
Product
Kit Size
Part Number
Price
Quantity
Product
Kit Size
Order Info
Price
Quantity
Kit Size:
Part Number:
Price:
Quantity:
Description
sparQ PureMag Beads is a fast and reliable nucleic acid purification system for reaction cleanup and size selection in Next Generation Sequencing (NGS) workflows. Based on the reversible nucleic acid-binding properties of magnetic beads, this product can be used to quickly remove primers, primer-dimers, unincorporated nucleotides, salts, adapters and adapter-dimers from NGS library prep reactions to improve downstream sequencing performance. sparQ PureMag Beads allows excellent recovery of fragments greater than 100 bp without centrifugation or filtration. Consistent and reliable size selection can be achieved by simply adjusting the beads to sample ratio. This product is designed for both manual and automated processing, allowing seamless integration into existing workflows.
Performance Data
Efficient recovery of DNA equivalent to AMPure XP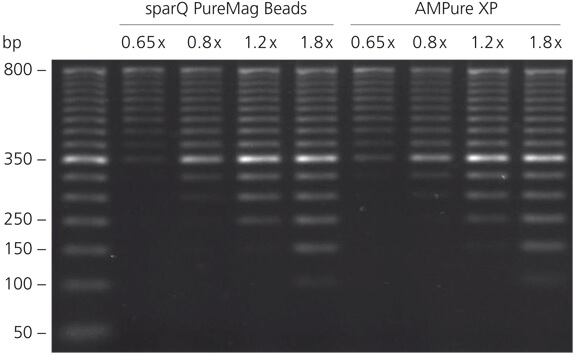 sparQ PureMag Beads show equivalent performance to AMPure XP for DNA purification. 50 bp DNA ladder was purified with sparQ PureMag Beads and AMPure XP at different beads to DNA ratios and analyzed on 2% agarose gel.
Highly reproducible purification across a range of inputs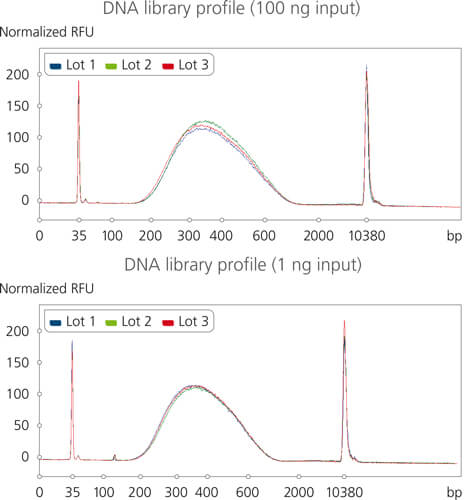 Highly reproducible DNA library profiles were achieved using different lots of sparQ PureMag Beads and a broad range of input amount. Libraries were prepared with sparQ DNA Library Prep Kit from 100 ng and 1 ng of fragmented microbial genomic DNA. sparQ PureMag Beads were used post adapter ligation and PCR amplification to effectively remove adapter-dimers and primer-dimers.
Bioanalyzer trace of fragmented human genomic DNA prior and post double-sided size selection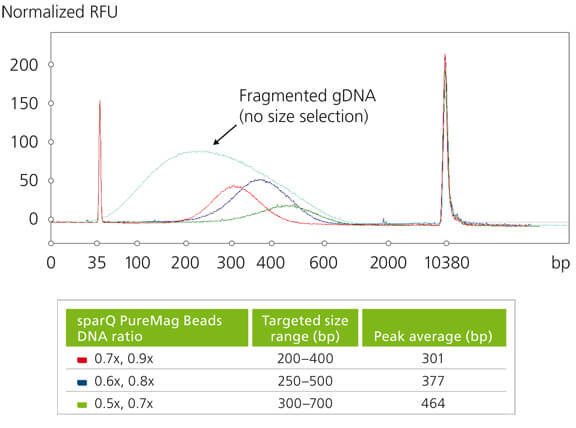 Electropherogram of fragmented human genomic DNA prior and post double-sided size selection. Different sparQ PureMag Beads to DNA ratios were used to achieve various targeted size range.
sparQ PureMag beads workflow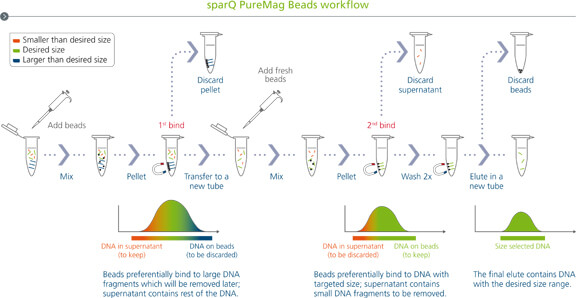 Double-sided size selection is used to remove smaller and larger fragments from either side of the desired region. The fragment size can be easily adjusted to suit the application by manipulating the sparQ PureMag Beads to DNA volumetric ratio.
Customer Testimonials
sparQ PureMag Beads
"I used the sparQ PureMag beads for mRNA purification after in vitro transcription. The sparQ beads demonstrated an excellent recovery (~98%) and could be used for size selection of the desired mRNA product. Highly recommended."
sparQ PureMag Beads
"Worked exactly as advertised. I was able to get complete recovery of my DNA easily and quickly."
sparQ PureMag Beads
"Very good product for NGS library purification and size selection"
sparQ PureMag Beads
"Very easy to use and really good recovery yield."
sparQ PureMag Beads
"Beads performed as well in my tests as Ampure XP which I consider to be the gold standard.  Impressive results given the lower price for sparQ PureMag Beads."
sparQ PureMag Beads
"We found that size selection with sparQ PureMag Beads was similar to our current vendor for but the amount of size selected library recovered was significantly larger."
sparQ PureMag Beads
"Great product. Useful for many different types of DNA capture applications."