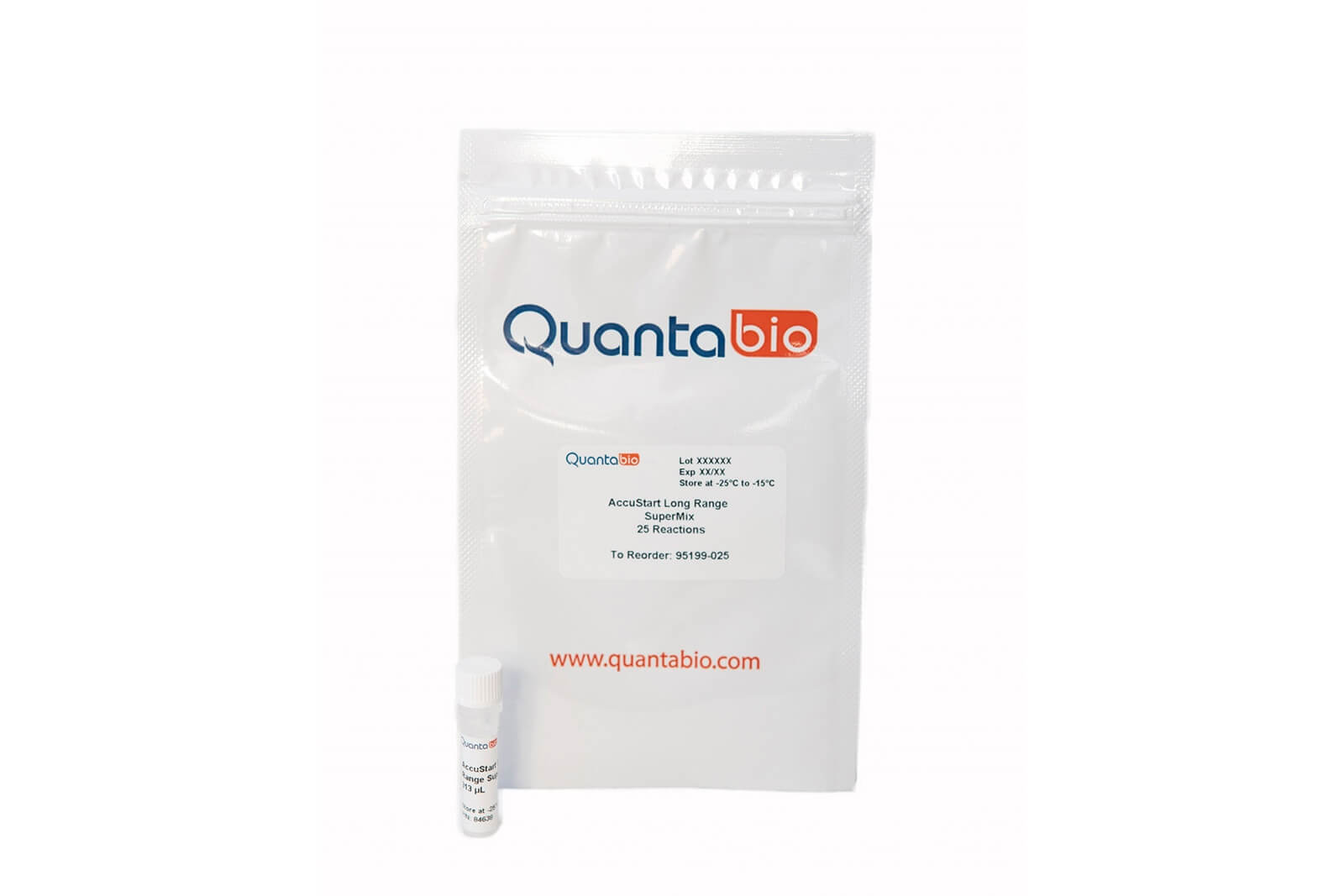 AccuStart Long Range SuperMix
Superior sensitivity and multiplexing for DNA amplification of long targets
Features & Benefits
Amplify +24 kb gDNA and +40 kb lambda DNA
4x concentration enables superior sensitivity with low inputs (100 pg)
Multiplex up to 6 targets with each target up to 6 kb in length
Stabilized, single-tube SuperMix minimizes pipetting errors and hands-on-time
Reliable lot-to-lot reproducibility ensures consistent results
Amplification through uracils and primers containing inosines/uracils
AccuStart Long Range SuperMix is intended for molecular biology applications. This product is not intended for the diagnosis, prevention or treatment of a disease.
Product
Kit Size
Order Info
Product
Kit Size
Order Info
AccuStart Long Range SuperMix
Description
The AccuStart Long Range SuperMix is a 4x, ready-to-use solution that contains all the components for long range target amplifications, including a blend of two hot-start thermostable DNA polymerases (one with strong proof-reading activity) and an optimized buffer to ensure high efficiency, sensitivity and specificity.
The SuperMix enables routine and easy amplification of up to 24kb target from gDNA with high accuracy (> 10-fold better fidelity than Taq) and accommodates targets with broad GC-content (no separate GC buffer needed). This product is also capable of amplifying multiple targets simultaneously and is suitable for end point PCR, template prep for sanger sequencing, NGS, cloning and HLA typing.
Customer Testimonials
Customer Testimonials
AccuStart Long Range SuperMix
"The AccuStart Long Range SuperMix produced a clean long-range product (10 kbp) on our first try! We are excited to have a reliable and easy-to-use polymerase to produce DNA for single-molecule studies."
Resources
Publications
DNA methylation in Friedreich ataxia silences expression of frataxin isoform E
Abstract
Epigenetic silencing in Friedreich ataxia (FRDA), induced by an expanded GAA triplet-repeat in intron 1 of the FXN gene, results in deficiency of the mitochondrial protein, frataxin. A lesser known extramitochondrial isoform of frataxin detected in erythrocytes, frataxin-E, is encoded via an alternate transcript (FXN-E) originating in intron 1 that lacks a mitochondrial targeting sequence. We show that FXN-E is deficient in FRDA, including in patient-derived cell lines, iPS-derived proprioceptive neurons, and tissues from a humanized mouse model. In a series of FRDA patients, deficiency of frataxin-E protein correlated with the length of the expanded GAA triplet-repeat, and with repeat-induced DNA hypermethylation that occurs in close proximity to the intronic origin of FXN-E. CRISPR-induced epimodification to mimic DNA hypermethylation seen in FRDA reproduced FXN-E transcriptional deficiency. Deficiency of frataxin E is a consequence of FRDA-specific epigenetic silencing, and therapeutic strategies may need to address this deficiency.
Comprehensive variant calling from whole-genome sequencing identifies a complex inversion that disrupts ZFPM2 in familial congenital diaphragmatic hernia
Abstract
Background: Genetic disorders contribute to significant morbidity and mortality in critically ill newborns. Despite advances in genome sequencing technologies, a majority of neonatal cases remain unsolved. Complex structural variants (SVs) often elude conventional genome sequencing variant calling pipelines and will explain a portion of these unsolved cases. Methods: As part of the Utah NeoSeq project, we used a research-based, rapid whole-genome sequencing (WGS) protocol to investigate the genomic etiology for a newborn with a left-sided congenital diaphragmatic hernia (CDH) and cardiac malformations, whose mother also had a history of CDH and atrial septal defect. Results: Using both a novel, alignment-free and traditional alignment-based variant callers, we identified a maternally inherited complex SV on chromosome 8, consisting of an inversion flanked by deletions. This complex inversion, further confirmed using orthogonal molecular techniques, disrupts the ZFPM2 gene, which is associated with both CDH and various congenital heart defects. Conclusions: Our results demonstrate that complex structural events, which often are unidentifiable or not reported by clinically validated testing procedures, can be discovered and accurately characterized with conventional, short-read sequencing and underscore the utility of WGS as a first-line diagnostic tool.
Genomic Characterization of the Fruity Aroma Gene, FaFAD1, Reveals a Gene Dosage Effect on γ-Decalactone Production in Strawberry (Fragaria × ananassa)
Abstract
Strawberries produce numerous volatile compounds that contribute to the unique flavors of fruits. Among the many volatiles, γ-decalactone (γ-D) has the greatest contribution to the characteristic fruity aroma in strawberry fruit. The presence or absence of γ-D is controlled by a single locus, FaFAD1. However, this locus has not yet been systematically characterized in the octoploid strawberry genome. It has also been reported that the volatile content greatly varies among the strawberry varieties possessing FaFAD1, suggesting that another genetic factor could be responsible for the different levels of γ-D in fruit. In this study, we explored the genomic structure of FaFAD1 and determined the allele dosage of FaFAD1 that regulates variations of γ-D production in cultivated octoploid strawberry. The genome-wide association studies confirmed the major locus FaFAD1 that regulates the γ-D production in cultivated strawberry. With the hybrid capture-based next-generation sequencing analysis, a major presence–absence variation of FaFAD1 was discovered among γ-D producers and non-producers. To explore the genomic structure of FaFAD1 in the octoploid strawberry, three bacterial artificial chromosome (BAC) libraries were developed. A deletion of 8,262 bp was consistently found in the FaFAD1 region of γ-D non-producing varieties. With the newly developed InDel-based codominant marker genotyping, along with γ-D metabolite profiling data, we revealed the impact of gene dosage effect for the production of γ-D in the octoploid strawberry varieties. Altogether, this study provides systematic information of the prominent role of FaFAD1 presence and absence polymorphism in producing γ-D and proposes that both alleles of FaFAD1 are required to produce the highest content of fruity aroma in strawberry fruit.
Customer Testimonials
AccuStart Long Range SuperMix
"The AccuStart Long Range SuperMix produced a clean long-range product (10 kbp) on our first try! We are excited to have a reliable and easy-to-use polymerase to produce DNA for single-molecule studies."