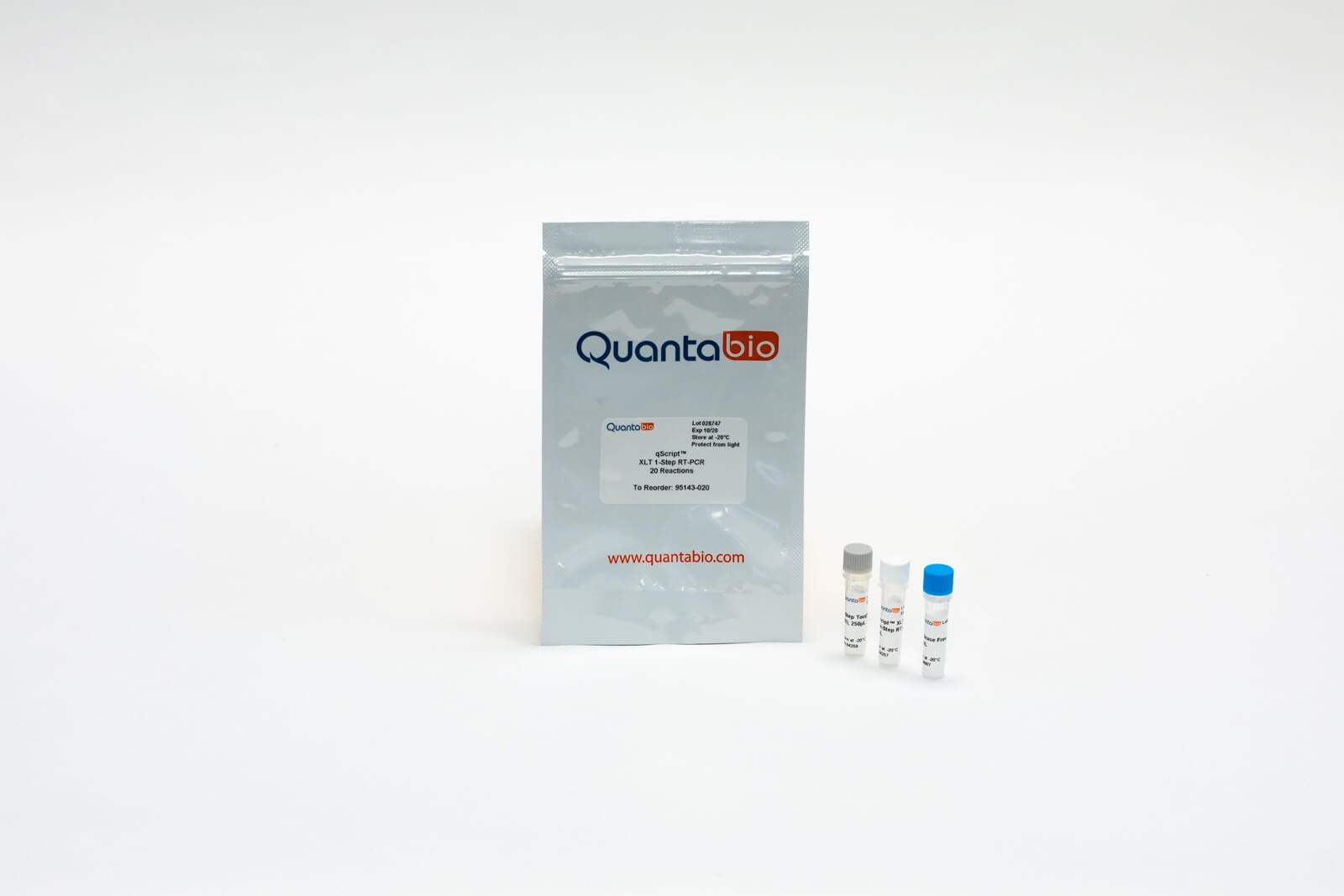 qScript XLT 1-Step RT-PCR Kit
Tough-tested One-Step Reverse Transcriptase PCR (RT-PCR) in a simplified, 2-component reagent system.
Features & Benefits
ToughMix reagent technology withstands PCR inhibitors commonly found in plant and animal tissues, environmental sources, clinical specimens and complex food matrices
Optional GelTrack dye streamlines workflow for gel electrophoresis
Temperature stabilized for support reaction assembly at convenient ambient room temperatures
Preblended with ribonuclease inhibitor protein to preserve RNA integrity during incubation
3′-exonuclease proof-reading polymerase supports high-fidelity downstream applications
qScript XLT 1-Step RT-PCR Kit is intended for molecular biology applications. This product is not intended for the diagnosis, prevention or treatment of a disease.
Product
Kit Size
Order Info
Product
Kit Size
Order Info
qScript XLT 1-Step RT-PCR Kit
Description
The qScript XLT One-Step RT-PCR Kit is a convenient and highly sensitive 2-reagent system for amplification of complex RNA templates exceeding 4 kb in length. Both enzyme incubation sequences are carried out in the same reaction mixture without opening between procedures. Advanced qScript XLT reverse transcriptase mutant possesses elevated temperature stability and improved template binding affinity for large complex RNA templates. Supports a wide-range of challenging
starting materials with PCR-inhibitor neutralizing ToughMix additives and delivers consistent, reliable assay performance. Ultrapure AccuStart II hot-start Taq DNA polymerase with 3'-exonuclease proof-reading activity provides stringent activation control for sensitive and precise target amplification.
Details
Details
Contents
25X concentrated One-Step RT master mix containing: qScript XLT reverse transcriptase ribonuclease inhibitor protein (RIP).
2X concentrated One-Step HiFi PCR ToughMix containing:

Reaction buffer with optimized concentrations of molecular-grade MgCl

2

, dATP, dCTP, dGTP, dTTP.
AccuStart II Taq DNA Polymerase with added 3′-exonuclease proofreading activity
Proprietary enzyme stabilizers and performance-enhancing additives.
Titrated reference dye (if applicable).

GelTrack® Loading Dye: 50X concentrated mixture of RT-PCR compatible, blue and yellow electrophoretic mobility dyes. (Does not contain density reagent)
Nuclease-free water
Storage & Handling
Details
Contents
25X concentrated One-Step RT master mix containing: qScript XLT reverse transcriptase ribonuclease inhibitor protein (RIP).
2X concentrated One-Step HiFi PCR ToughMix containing:

Reaction buffer with optimized concentrations of molecular-grade MgCl

2

, dATP, dCTP, dGTP, dTTP.
AccuStart II Taq DNA Polymerase with added 3′-exonuclease proofreading activity
Proprietary enzyme stabilizers and performance-enhancing additives.
Titrated reference dye (if applicable).

GelTrack® Loading Dye: 50X concentrated mixture of RT-PCR compatible, blue and yellow electrophoretic mobility dyes. (Does not contain density reagent)
Nuclease-free water
Storage & Handling