AccuStart II PCR Genotyping Kit
Completely reagent-based system enables reliable PCR genotyping with minimal pipetting skill
Features & Benefits
Simplified, completely reagent-based system requires minimal pipetting skill
Premixed electrophretic mobility loading dye reduces chances for post-PCR cross contamination
Stabilized 2X PCR SuperMix enables convenient room-temperature setup and is unaffected by repetitive freeze-thaw (>20X)
High-yielding, ultrapure modified Taq DNA polymerase delivers robust, reliable duplex assay performance
Stringent, ultrapure antibody hotstart ensures sensitive and specific target amplification
AccuStart II PCR Genotyping Kit is intended for molecular biology applications. This product is not intended for the diagnosis, prevention or treatment of a disease.
Product
Kit Size
Part Number
Price
Quantity
Product
Kit Size
Order Info
Price
Quantity
AccuStart II PCR Genotyping Kit
Kit Size:
Part Number:
Price:
Quantity:
Kit Size:
100 x 25 μL rxns
Kit Size:
500 x 25 μL rxns
Description
The AccuStart II Genotyping Kit is a complete reagent kit designed to support conventional, end-point PCR-based screening of transgenic animal models commonly used in life science research and is validated for use with mouse, fish, or insect tissue specimens. It combines a rapid, 2-component DNA extraction reagent with a user-friendly 2X concentrated PCR SuperMix with loading dye for seamless gel electrophoresis analysis. qPCR-grade genomic DNA template is obtained with minimal extraction volumes (100uL) and can be carried out in 30-minutes on a standard PCR thermal cycler.
Details
Contents
Extracta® DNA Prep for PCR (95091-02)

Extraction Reagent
Stabilization Buffer

AccuStart II GelTrack PCR SuperMix (95136-500)

2X concentrated SuperMix containing optimized concentrations of molecular-grade MgCl

2

, dNTP blend, AccuStart II Taq DNA Polymerase, reaction buffer, stabilizers and electrophoretic mobility dyes (4kb & 50bp).
Storage & Handling
Performance Data
AccuStart II Results more specific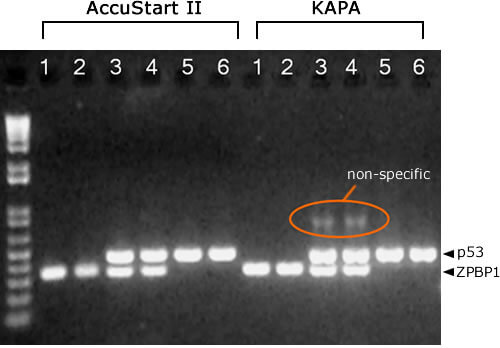 KAPA PCR mix requires more optimization to reduce non-specific amplification products in multiplex PCR reactions. Lanes: 1 = mouse 1, ZPBP1. 2 = mouse 2, ZPBP1. 3 = mouse 1, ZPBP1/p53. 4 = mouse 2, ZPBP1/p53. 5 = mouse 1, p53. 6 = mouse 2, p53
Resources
Publications
TCF-1 Is Required for CD4 T Cell Persistence Functions during AlloImmunity
Abstract
The transcription factor T cell factor-1 (TCF-1) is encoded by Tcf7 and plays a significant role in regulating immune responses to cancer and pathogens. TCF-1 plays a central role in CD4 T cell development; however, the biological function of TCF-1 on mature peripheral CD4 T cellmediated alloimmunity is currently unknown. This report reveals that TCF-1 is critical for mature CD4 T cell stemness and their persistence functions. Our data show that mature CD4 T cells from TCF-1 cKO mice did not cause graft versus host disease (GvHD) during allogeneic CD4 T cell transplantation, and donor CD4 T cells did not cause GvHD damage to target organs. For the first time, we showed that TCF-1 regulates CD4 T cell stemness by regulating CD28 expression, which is required for CD4 stemness. Our data showed that TCF-1 regulates CD4 effector and central memory formation. For the first time, we provide evidence that TCF-1 differentially regulates key chemokine and cytokine receptors critical for CD4 T cell migration and inflammation during alloimmunity. Our transcriptomic data uncovered that TCF-1 regulates critical pathways during normal state and alloimmunity. Knowledge acquired from these discoveries will enable us to develop a target-specific approach for treating CD4 T cell-mediated diseases
NUDT7 regulates total hepatic CoA levels and the composition of the intestinal bile acid pool in male mice fed a Western diet
Abstract
Nudix hydrolase 7 (NUDT7) is an enzyme that hydrolyzes CoA species, is highly expressed in the liver, and resides in the peroxisomes. Peroxisomes are organelles where the preferential oxidation of dicarboxylic fatty acids occurs and where the hepatic synthesis of the primary bile acids cholic acid and chenodeoxycholic acid is completed. We previously showed that liver-specific overexpression of NUDT7 affects peroxisomal lipid metabolism, but does not prevent the increase in total liver CoA levels that occurs during fasting. We generated Nudt7-/- mice to further characterize the role that peroxisomal (acyl-)CoA degradation plays in the modulation of the size and composition of the acyl-CoA pool and in the regulation of hepatic lipid metabolism. Here we show that deletion of Nudt7 alters the composition of the hepatic acyl-CoA pool in mice fed a low-fat diet, but only in males fed a Western diet does the lack of NUDT7 activity increase total liver CoA levels. This effect is driven by the male-specific accumulation of medium-chain dicarboxylic acyl-CoAs, which are produced from the β-oxidation of dicarboxylic fatty acids. We also show that, under conditions of elevated synthesis of chenodeoxycholic acid derivatives, Nudt7 deletion promotes the production of tauromuricholic acid, decreasing the hydrophobicity index of the intestinal bile acid pool and increasing fecal cholesterol excretion in male mice. These findings reveal that NUDT7-mediated hydrolysis of acyl-CoA pathway intermediates in liver peroxisomes contributes to the regulation of dicarboxylic fatty acid metabolism and the composition of the bile acid pool.
Inflammation and CB2 signaling drive novel changes in the ocular lipidome and regulate immune cell activity in the eye
Abstract
Uveitis is inflammation of the uvea which consists of the iris, ciliary body and the choroid of the eye. Uveitis can lead to impaired vision and is responsible for 10% of all cases of blindness globally. Using an endotoxin-induced uveitis (EIU) rodent model, our previous data implicated the endogenous cannabinoid system (ECS) in the amelioration of many of the components of the inflammatory response. Here, we test the hypothesis that the reduction in inflammatory mediators in the EIU model by the CB2 agonist, HU308, is associated with changes in ECS endogenous ligands as well as related lipids, prostaglandins (PGs), 2-acyl glycerols, and lipoamines. Analysis of leukocytes and neutrophils, CB2 mRNA, and 26 lipids in the eye of WT mice after EIU induction and HU308 treatment were compared to the same analyses in the CB2 knock-out (CB2 KO) mouse. Endothelial leukocyte adhesion and neutrophil migration were significantly increased in both WT and CB2 KO after EIU. HU308 significantly reduced the leukocyte adhesion and neutrophil recruitment in the WT animals. HU308 also significantly reduced leukocyte adhesion in the CB2 KO mouse, yet, had no effect on neutrophil infiltration suggesting an important off-target effect of HU308. Lipidomics profiles revealed significant increases in 6 non-ECS lipids after EIU in the WT and that HU308 effectively reduced these back to control levels; in addition, HU308 increased levels of 2-acyl glycerols and decreased all N-acyl glycines. CB2 KOs with saline-injection compared to WT had significantly elevated levels of 2-acyl glycerols, whereas levels of N-oleoyl ethanolamine (OEA), N-stearoyl ethanolamine (SEA), and PGE2 were reduced. CB2 KOs with EIU had 13 lipids that were significantly lower than WT with EIU including 4 N-acyl glycines. HU308 had no effect on lipid concentrations in the CB2 KOs with EIU, however, it did cause further reductions on 3 additional lipids compared to saline controls. HU308 appears to be acting at a non-CB2 target for the reduction of leukocyte infiltration in the EIU model; however, our data suggest that HU308 is working through CB2 to reduce neutrophil migration and for the regulation of multiple lipid signaling pathways including PGs, lipoamines, and 2-acyl glycerols. These data implicate ocular CB2 as a key component of lipid signaling in the eye and part of the regulatory processes of inflammation.
Customer Testimonials
AccuStart II PCR Genotyping Kit
"With this kit, the genotyping process takes much shorter time and is much easier than before."
AccuStart II PCR Genotyping Kit
"Much quicker process for genotyping, instead of having to go through extra steps for DNA extraction and purification, it's two simple steps to extract DNA and stabilize, then just set up a PCR reaction with the reagents provided, and I get great results"
AccuStart II PCR Genotyping Kit
"This kit has streamlined our genotyping workflow. Easy and fast, we are very pleased with this kit!"
AccuStart II PCR Genotyping Kit
"Very intuitive and easy to use. This has greatly sped up our genotyping protocol based on mouse tail snips."
AccuStart II PCR Genotyping Kit
"The AccuStart kit is very easy to use and gives reliable and consistent results. We are happy to switch from our current protocol to AccuStart!"
AccuStart II Genotyping Kit
"The quality of this product is amazing, especially for the enzyme mixture. It can successfully amplify most of the genotyping targets in a very short time frame."
AccuStart II Genotyping
"With AccuStart II kit we were able to decrease costs, increase yield of our PCR sensitivity while decreasing and optimizing time. It made genotyping much easier, faster, and cheaper for our multiple transgenic colonies."