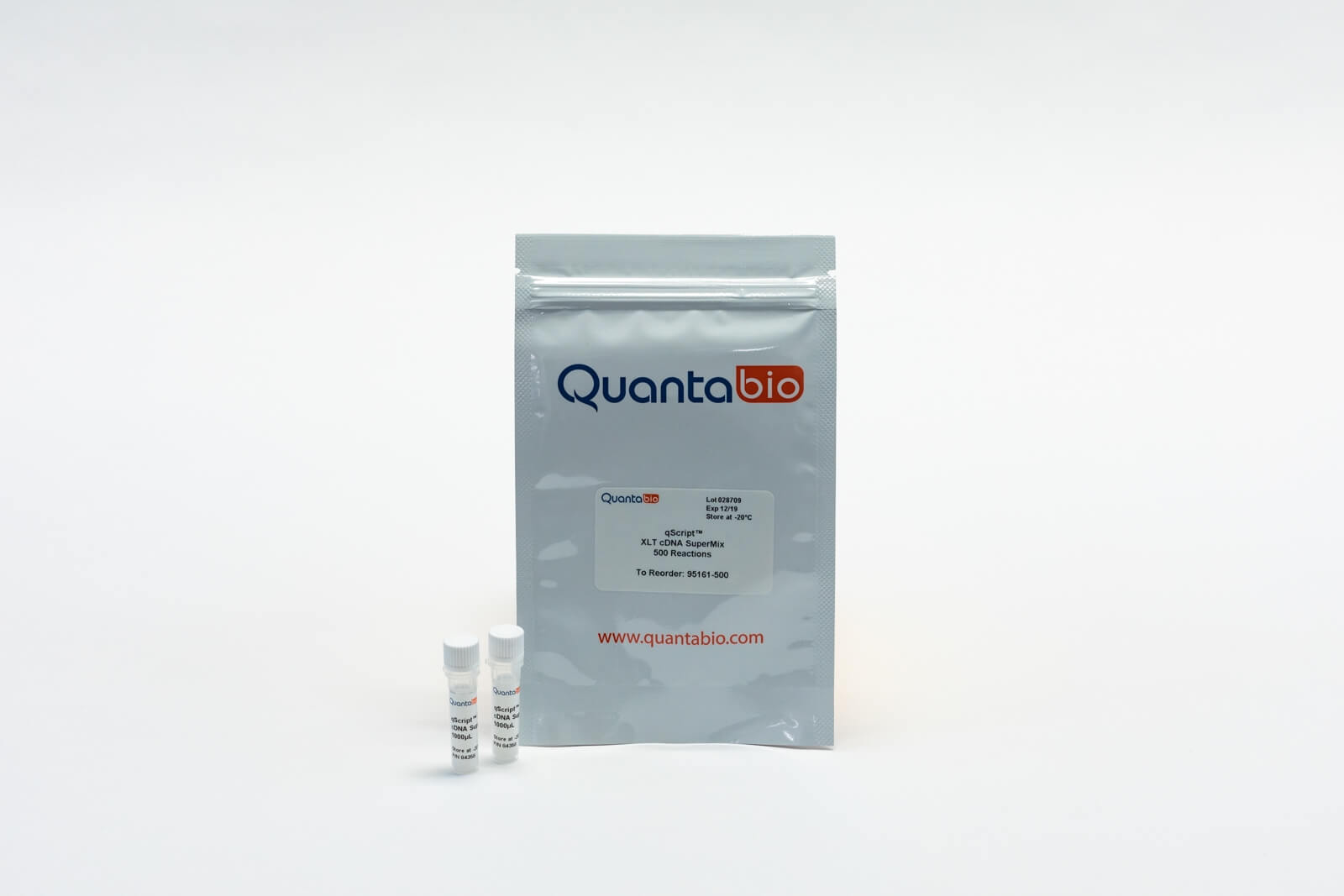 qScript XLT cDNA SuperMix
Premium Performance with SuperMix Benefits
Features & Benefits
Stabilized 5X concentrated master mix simplifies reaction assembly and improves accuracy by minimizing pipetting steps
Optimized, double pre-primed SuperMix provides equal representation of 5′ and 3′ RNA sequences ≤ 1kb for quantitative and conventional two-step RT-PCR
Improved RNA template binding affinity for increased yields with problematic sequences or complex secondary structure
Perform more qPCR assays from limiting amounts of RNA with 2-3 fold improved cDNA yields over older enzyme technologies
Broad linear dynamic detection range spanning up to 10

8

fold
qScript XLT cDNA SuperMix is intended for molecular biology applications. This product is not intended for the diagnosis, prevention or treatment of a disease.
Product
Kit Size
Order Info
Product
Kit Size
Order Info
qScript XLT cDNA SuperMix
25 x 20 μL rxns (1 x 100 µL)
100 x 20 μL rxns (1 x 400 µL)
500 x 20 μL rxns (2 x 1000 µL)
Description
qScript XLT cDNA SuperMix is a next-generation tool for first-strand cDNA synthesis, providing a highly sensitive and easy-to-use solution for two-step RT-PCR and RT-qPCR. qScript XLT is an engineered M-MLV reverse transcriptase mutant with reduced RNase H activity and improved yield and stability at higher temperatures. Combined with a precise mixture of reaction components, this SuperMix enables superior results over a wide dynamic range of input RNA, with up to 8-fold higher sensitivity than our previous qScript cDNA SuperMix cDNA synthesis kits, which utilize an engineered RNase H(+) reverse transcriptase mutant.
Details
Contents
Single-tube, 5X concentrated reagent containing:
Reaction buffer with optimized concentrations of molecular-grade MgCl

2

, dATP, dCTP, dGTP, dTTP
Recombinant ribonuclease inhibitor protein (RIP)
qScript XLT reverse transcriptase
Titrated concentrations of random hexamer and oligo(dT) primer
Proprietary enzyme stabilizers and performance-enhancing additives
Storage & Handling
Performance Data
Comparison of cDNA synthesis

Comparison of cDNA synthesis from Brain tissue using qScript™ XLT cDNA SuperMix (Blue, Quanta BioSciences) and SuperScript® VILO (Red, Life Technologies).
Using Quanta's original qScript cDNA SuperMix as a control, the dCq (change in cycle threshold) is shown for each of 96 genes.
The results indicate XLT beats VILO by at least a full cycle and the original SuperMix by more than 2 cycles on average.
Two-step RT-qPCR with high reproducibility, sensitivity, and broad dynamic range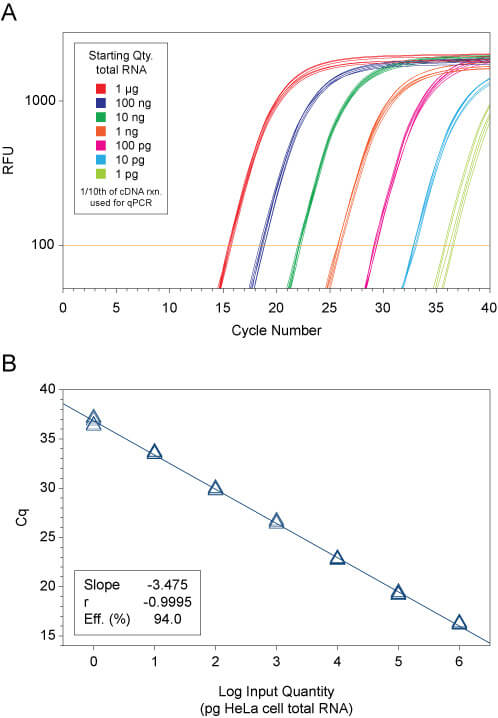 First-strand cDNA was synthesized using qScript® XLT cDNA SuperMix from varying amounts of HeLa cell total RNA (1 μg to 1 pg) . Six replicate cDNA reactions (20-μL final vol.) were performed for each input amount of total RNA template.
Following cDNA synthesis, 30 μL of 10 mM Tris (pH 8.0), 1 mM EDTA was added to each reaction and 5 μL of the diluted cDNA product (1/10th of each cDNA reaction) was used as template for qPCR s using PerfeCTa qPCR ToughMix with 0.5X Human B2M (FAM/MGB) TaqMan® Endogenous Control Assay (Life Technologies). qPCR was performed on a CFX96 Real-Time PCR Detection System (Bio-Rad). Following an initial activation step of 2 min. at 95°C, the 20-μL reactions were cycled 45X: 95°C, 5s; 60°C, 30s
Customer Testimonials
qScript XLT cDNA SuperMix
"qScript XLT gave us a very clean cDNA that upon qPCR allowed a detection of the gene expression 3-8 cycles earlier than in our current RT."
qScript XLT cDNA SuperMix
"The cDNA was easy to make and prep was of good quality. I have used 1 ug of total RNA as starting material."