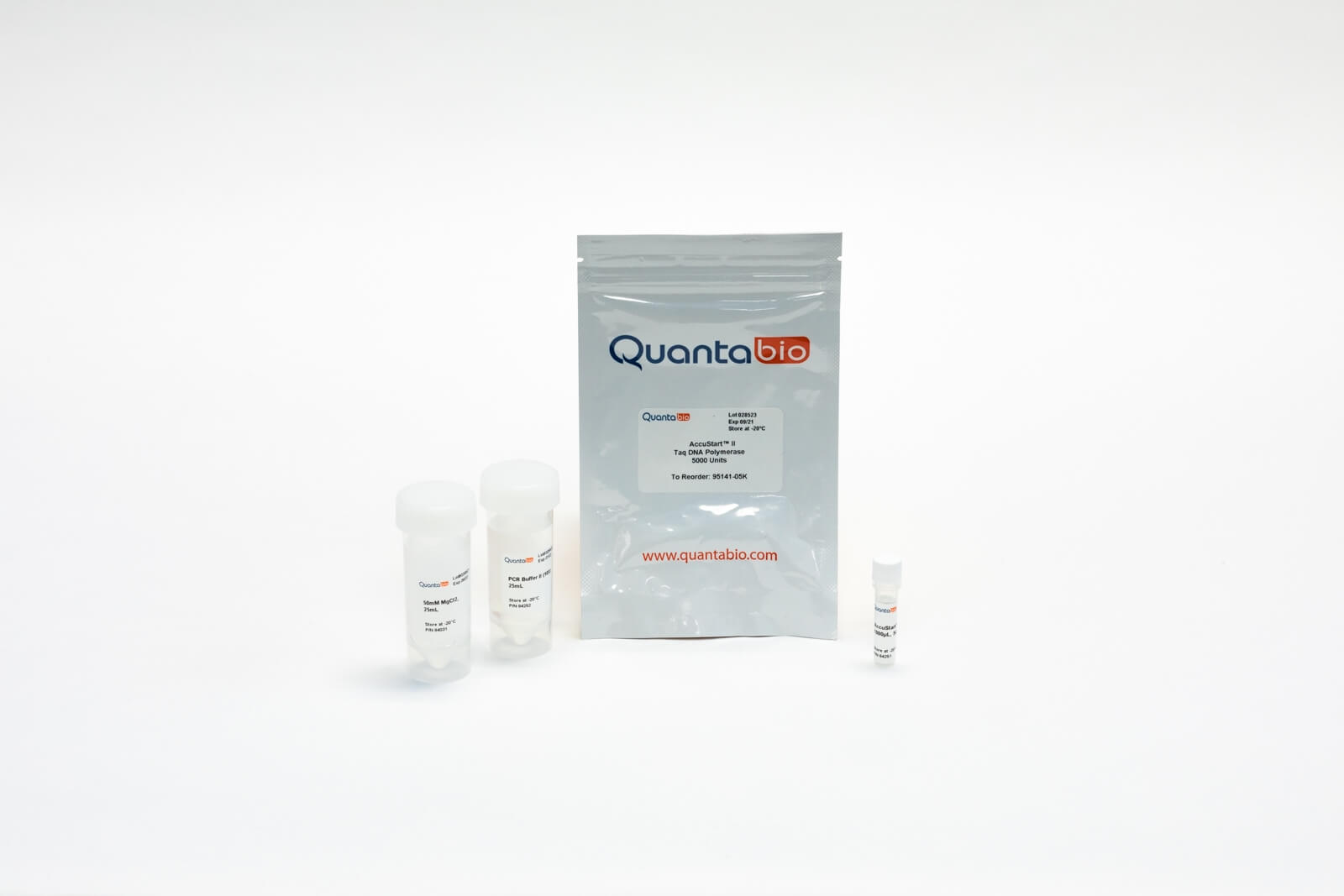 AccuStart II Taq DNA Polymerase
High purity recombinant Taq DNA polymerase preparation with high avidity monoclonal antibody hot start
Features & Benefits
High-yielding, ultrapure modified Taq DNA polymerase delivers robust, reliable assay sensitivity
Stringent, ultrapure antibody hotstart enables precise target amplification and ambient room temperature setup
AccuStart II Taq DNA Polymerase is intended for molecular biology applications. This product is not intended for the diagnosis, prevention or treatment of a disease.
Product
Kit Size
Part Number
Price
Quantity
Product
Kit Size
Order Info
Price
Quantity
AccuStart II Taq DNA Polymerase
Kit Size:
Part Number:
Price:
Quantity:
Kit Size:
250 U, 5 U/µL

(1 x 50 µL)
Kit Size:
5000 U, 5 U/µL

(1 x 1 mL)
Product
Kit Size
Order Info
Price
Quantity
AccuStart II Taq DNA Polymerase, 1000U
Kit Size:
Part Number:
Price:
Quantity:
Kit Size:
1000 U, 5 U/µL

(1 x 200 µL)
Description
AccuStart II Taq DNA Polymerase is a high purity, recombinant Taq DNA polymerase preparation with high avidity monoclonal antibodies that bind the polymerase and keep it inactive prior to the initial PCR denaturation step. Upon heat activation (1 minute at 94ºC), the antibodies denature irreversibly, releasing fully active, unmodified Taq DNA polymerase. This enables specific and efficient primer extension with the convenience of room temperature reaction assembly. Non-specific extension of primers at low temperatures is a common cause of artifacts and poor sensitivity in PCR. The AccuStart II automatic hot-start enables specific and efficient primer extension in the PCR process with the added convenience of room temperature reaction assembly. The included 10X PCR Buffer II is optimized for higher yields, improved specificity, and enhanced multiplexing capability.
Activated AccuStart II Taq DNA polymerase possesses 5'->3' DNA polymerase activity and a double-strand specific 5'->3' exonuclease. The polymerase does not have 3'-exonuclease activity and is free of any contaminating endo or exonuclease activities.
One unit is defined as the amount of enzyme that will incorporate 10 nmol of dNTP into acid-insoluble material in 30 minutes at 74°C. AccuStart II Taq DNA polymerase contains extremely low levels of residual host, E. coli genomic DNA.
Details
Details
Contents
AccuStart II Taq DNA polymerase 5 units/μL in 50% glycerol, 20 mM Tris-HCl, 40 mM NaCl, 0.1 mM EDTA, and stabilizers.
10X PCR Buffer II
50 mM MgCl

2
Storage & Handling
Details
Contents
AccuStart II Taq DNA polymerase 5 units/μL in 50% glycerol, 20 mM Tris-HCl, 40 mM NaCl, 0.1 mM EDTA, and stabilizers.
10X PCR Buffer II
50 mM MgCl

2
Storage & Handling
Resources
Publications
Comprehensive variant calling from whole-genome sequencing identifies a complex inversion that disrupts ZFPM2 in familial congenital diaphragmatic hernia
Abstract
Background: Genetic disorders contribute to significant morbidity and mortality in critically ill newborns. Despite advances in genome sequencing technologies, a majority of neonatal cases remain unsolved. Complex structural variants (SVs) often elude conventional genome sequencing variant calling pipelines and will explain a portion of these unsolved cases. Methods: As part of the Utah NeoSeq project, we used a research-based, rapid whole-genome sequencing (WGS) protocol to investigate the genomic etiology for a newborn with a left-sided congenital diaphragmatic hernia (CDH) and cardiac malformations, whose mother also had a history of CDH and atrial septal defect. Results: Using both a novel, alignment-free and traditional alignment-based variant callers, we identified a maternally inherited complex SV on chromosome 8, consisting of an inversion flanked by deletions. This complex inversion, further confirmed using orthogonal molecular techniques, disrupts the ZFPM2 gene, which is associated with both CDH and various congenital heart defects. Conclusions: Our results demonstrate that complex structural events, which often are unidentifiable or not reported by clinically validated testing procedures, can be discovered and accurately characterized with conventional, short-read sequencing and underscore the utility of WGS as a first-line diagnostic tool.
ADAPT identifies an ESCRT complex composition that discriminates VCaP from LNCaP prostate cancer cell exosomes
Abstract
Libraries of single-stranded oligodeoxynucleotides (ssODNs) can be enriched for sequences that specifically bind molecules on naïve complex biological samples like cells or tissues. Depending on the enrichment strategy, the ssODNs can identify molecules specifically associated with a defined biological condition, for example a pathological phenotype, and thus are potentially useful for biomarker discovery. We performed ADAPT, a variant of SELEX, on exosomes secreted by VCaP prostate cancer cells. A library of ∼1011 ssODNs was enriched for those that bind to VCaP exosomes and discriminate them from exosomes derived from LNCaP prostate cancer cells. Next-generation sequencing (NGS) identified the best discriminating ssODNs, nine of which were resynthesized and their discriminatory ability confirmed by qPCR. Affinity purification with one of the sequences (Sequence 7) combined with LC–MS/MS identified its molecular target complex, whereof most proteins are part of or associated with the multiprotein ESCRT complex participating in exosome biogenesis. Within this complex, YBX1 was identified as the directly-bound target protein. ADAPT thus is able to differentiate exosomes from cancer cell subtypes from the same lineage. The composition of ESCRT complexes in exosomes from VCaP versus LNCaP cells might constitute a discriminatory element between these prostate cancer subtypes.
Epigenome-wide analysis of sperm cells identifies IL22 as a possible germ line risk locus for psoriatic arthritis
Abstract
Psoriasis and its associated inflammatory arthritis, psoriatic arthritis (PsA), have a clear heritable component, but a large proportion of the heritable risk remains unexplained by gene sequence variation. This study aimed to determine if epigenetic factors contribute to the missing heritability in psoriatic disease. DNA methylation profiling was performed on sperm cells from 23 probands with psoriasis without PsA (PsC), 13 PsA probands, and 18 unaffected controls. Differentially methylated CpGs and regions (DMRs) were identified and validated by pyrosequencing. Underlying AluY and copy number variation (CNV) in the HCG26 and IL22 genes, respectively, were assessed by genotyping. Array, subject's age, age of psoriasis onset, psoriasis severity, and medication usage were found to influence methylation at many genes and were included as covariates in the analysis. Between PsC probands vs. controls, 169 DMRs were found; 754 DMRs were found between PsA probands vs. controls, and 86 between PsA and PsC probands (adjusted p<0.05). Differences in methylation across DMRs were generally subtle (<10%) but correlated well with pyrosequencing. Biological inference prioritized notable DMRs associated with skin disease (SIGLEC14, JAM3, PCOLCE, RXRB), skin and/or joint disease (MBP, OSBPL5, SNORD115, HCG26), and joint disease (IL22, ELF5, PPP2R2D, PTPRN2, HCG26). Hypermethylation of the DMR within the first exon of arthritis-associated IL22 showed significant correlation (rho = 0.34, 95% CI 0.06–0.57, p = 0.01) between paired sperm and blood samples, independent of a CNV within the same region. Further studies are needed to rule out underlying genetic causes and determine if these represent heritable, constitutional epimutations, or are the result of exposure of germ cells to endogenous or exogenous environmental factors.