qScript XLT cDNA SuperMix
Premium Performance with SuperMix Benefits
Features & Benefits
Stabilized 5X concentrated master mix simplifies reaction assembly and improves accuracy by minimizing pipetting steps.
Optimized, double pre-primed SuperMix provides equal representation of 5' and 3' RNA sequences ≤ 1kb for quantitative and conventional two-step RT-PCR.
Improved RNA template binding affinity for increased yields with problematic sequences or complex secondary structure.
Perform more qPCR assays from limiting amounts of RNA with 2-3 fold improved cDNA yields over older enzyme technologies.
Broad linear dynamic detection range spanning up to 10

8

fold.
qScript XLT cDNA SuperMix is intended for molecular biology applications. This product is not intended for the diagnosis, prevention or treatment of a disease.
Description
qScript XLT cDNA SuperMix is a next-generation tool for first-strand cDNA synthesis, providing a highly sensitive and easy-to-use solution for two-step RT-PCR and RT-qPCR. qScript XLT is an engineered M-MLV reverse transcriptase mutant with reduced RNase H activity and improved yield and stability at higher temperatures. Combined with a precise mixture of reaction components, this SuperMix enables superior results over a wide dynamic range of input RNA, with up to 8-fold higher sensitivity than our previous qScript cDNA SuperMix cDNA synthesis kits, which utilize an engineered RNase H(+) reverse transcriptase mutant.
Performance Data
Unmatched Sensitivity
---

Comparison of cDNA synthesis
Comparison of cDNA synthesis from Brain tissue using qScript™ XLT cDNA SuperMix (Blue, Quanta BioSciences) and SuperScript® VILO (Red, Life Technologies).
Using Quanta's original qScript cDNA SuperMix as a control, the dCq (change in cycle threshold) is shown for each of 96 genes.
The results indicate XLT beats VILO by at least a full cycle and the original SuperMix by more than 2 cycles on average.
---
Broad Dynamic Range
---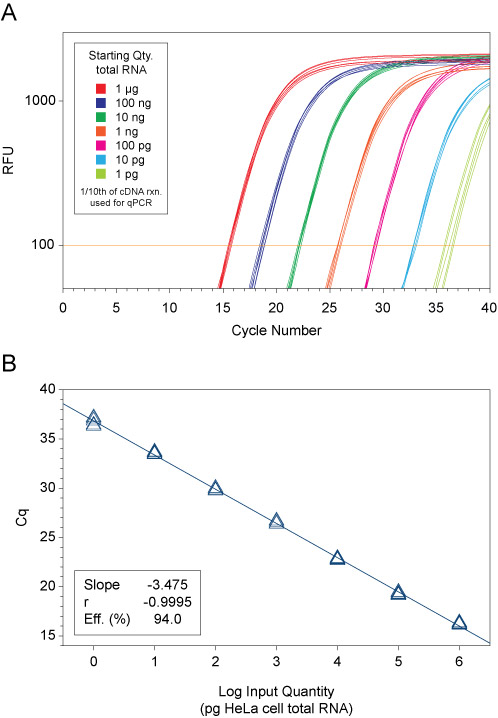 Two-step RT-qPCR with high reproducibility, sensitivity, and broad dynamic range
First-strand cDNA was synthesized using qScript™ XLT cDNA SuperMix from varying amounts of HeLa cell total RNA (1 µg to 1 pg) . Six replicate cDNA reactions (20-µL final vol.) were performed for each input amount of total RNA template.
Following cDNA synthesis, 30 µL of 10 mM Tris (pH 8.0), 1 mM EDTA was added to each reaction and 5 µL of the diluted cDNA product (1/10th of each cDNA reaction) was used as template for qPCR s using PerfeCta qPCR ToughMix with 0.5X Human B2M (FAM/MGB) TaqMan® Endogenous Control Assay (Life Technologies). qPCR was performed on a CFX96 Real-Time PCR Detection System (Bio-Rad). Following an initial activation step of 2 min. at 95°C, the 20-µL reactions were cycled 45X: 95°C, 5s; 60°C, 30s
---
Details
Contents

Single-tube, 5X concentrated reagent containing:

Reaction buffer with optimized concentrations of molecular-grade MgCl

2

, dATP, dCTP, dGTP, dTTP
Recombinant ribonuclease inhibitor protein (RIP)
qScript XLT reverse transcriptase
Titrated concentrations of random hexamer and oligo(dT) primer
Proprietary enzyme stabilizers and performance-enhancing additives

Storage & Handling

Store components in a constant temperature freezer at -25°C to -15°C upon receipt For lot specific expiry date, refer to package label, Certificate of Analysis or Product Specification Form.
Thaw completely on ice then pulse vortex to mix and briefly spin-down to collect contents before opening tube. 5X concentrated reagent is viscous. When drawing out material, touch pipette tip to liquid interface but do not immerse.

Related Resources

Product Manuals

Technical Notes

Product Flyers

Safety Data Sheets (SDS)

CofA (PSF)

Publications
Ordering Information
Product

Kit Size

Order Info

qScript XLT cDNA SuperMix

25 x 20 μL rxns (1 x 100 µl)

100 x 20 μL rxns (1 x 400 µL)

500 x 20 μL rxns (2 x 1000 µL)