AccuStart II PCR Genotyping Kit
Completely reagent-based system enables reliable PCR genotyping with minimal pipetting skill
Features & Benefits
Simplified, completely reagent-based system requires minimal pipetting skill.
Premixed electrophretic mobility loading dye reduces chances for post-PCR cross contamination.
Stabilized 2X PCR SuperMix enables convenient room-temperature setup and is unaffected by repetitive freeze-thaw (>20X).
High-yielding, ultrapure modified Taq DNA polymerase delivers robust, reliable duplex assay performance.
Stringent, ultrapure antibody hotstart ensures sensitive and specific target amplification.
AccuStart II PCR Genotyping Kit is intended for molecular biology applications. This product is not intended for the diagnosis, prevention or treatment of a disease.
Description
The AccuStart II Genotyping Kit is a complete reagent kit designed to support conventional, end-point PCR-based screening of transgenic animal models commonly used in life science research and is validated for use with mouse, fish, or insect tissue specimens. It combines a rapid, 2-component DNA extraction reagent with a user-friendly 2X concentrated PCR SuperMix with loading dye for seamless gel electrophoresis analysis. qPCR-grade genomic DNA template is obtained with minimal extraction volumes (≤ 100uL) and can be carried out in ≤ 30-minutes on a standard PCR thermal cycler.
Performance Data
Accustart II vs KAPA: Mouse tail snips
---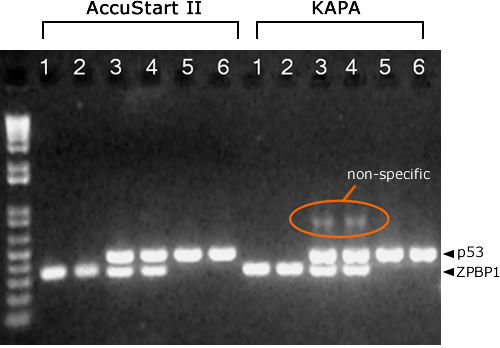 AccuStart II Results more specific
KAPA PCR mix requires more optimization to reduce non-specific amplification products in multiplex PCR reactions. Lanes: 1 = mouse 1, ZPBP1. 2 = mouse 2, ZPBP1. 3 = mouse 1, ZPBP1/p53. 4 = mouse 2, ZPBP1/p53. 5 = mouse 1, p53. 6 = mouse 2, p53
---
Find Reagents & Request Samples
Not sure what to choose? Use our product finder to identify the best reagent for your application
Find Your Product
Details
Contents

Extracta® DNA Prep for PCR (95091-02)


Extraction Reagent
Stabilization Buffer

AccuStart II GelTrack PCR SuperMix (95136-500)


2X concentrated SuperMix containing optimized concentrations of molecular-grade MgCl

2

, dNTP blend, AccuStart II Taq DNA Polymerase, reaction buffer, stabilizers and electrophoretic mobility dyes (4kb & 50bp).

Storage & Handling

Remove AccuStart II GelTrack PCR SuperMix from the kit box and store separately at or below -20°C. Extracta reagents can be stored at room temperature

AccuStart II GelTrack PCR SuperMix is stable for 1 year when stored in a constant temperature freezer at or below -20°C. For convenience, it may be stored unfrozen at 4°C for up to 6 months. Repeated freezing and thawing does not impair reagent performance. Thaw completely, pulse vortex to mix and briefly spin down to collect tube contents before opening.
Ordering Information
Product

Kit Size

Order Info

AccuStart II PCR Genotyping Kit, 500R