PerfeCTa SYBR® Green SuperMix
Sensitive and precise DNA amplification with DNA-intercalating dye based detection chemistry
Features & Benefits
2x concentrated reagents minimize pipetting steps, simplify reaction assembly and improve accuracy
Superior assay sensitivity and specificity with ultrapure AccuStart enzyme technology – maximum-yielding Taq DNA polymerase mutant controlled by stringent, multi-epitope antibody hot start
Supports efficient vortex mixing with proprietary anti-foaming formulation
SuperMix version provides maximum dye concentration for robust optical signal with small amplicons (i.e. microRNAtemplated cDNA)
PerfeCTa SYBR Green SuperMix is intended for molecular biology applications. This product is not intended for the diagnosis, prevention or treatment of a disease.
Description
PerfeCTa SYBR Green SuperMix is a user-friendly, 2X concentrated reaction mix that simplifies setup and is pre-blended with reference dye for optimized product performance. This proprietary buffer technology stabilizes a high concentration of SYBR Green I dye to ensure maximum optical signal with low abundance or small targets (such as microRNA). Successful detection with a non-specific, dsDNA intercalating dye requires precise target amplification as off-target primer elongation will contribute to overall fluorescent signal and lead to over-reported relative abundance values. This reagent is powered by a highly-processive, ultra-pure Taq DNA polymerase mutant with stringent, ultra-pure AccuStart™II antibody hot start technology that allows ambient room-temperature setup and maximal enzyme kinetics after rapid, irreversible denaturation at 95°C.
Performance Data
Comparison to QuantiTect, GAPD
---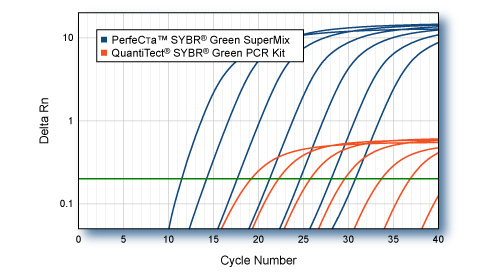 PerfeCTa SYBR Green SuperMix Comparison to QuantiTect SYBR Green PCR Kit (Qiagen), GAPD
Log-fold serial dilutions of qScript™ cDNA from HeLa cell total RNA (100 ng to 0.1 pg) were analyzed by SYBR Green qPCR following each manufacturers protocol. Averaged plots of triplicate qPCR reactions are shown.
---
Details
Contents

Single-tube, 2X concentrated reagent containing:

Reaction buffer with optimized concentrations of molecular-grade MgCl

2

, dATP, dCTP, dGTP, and dTTP.
AccuStart II Taq DNA Polymerase
SYBR Green I dye
Proprietary enzyme stabilizers and performance-enhancing additives.
Titrated reference dye (if applicable).

Storage & Handling

Store components in a constant temperature freezer at -25°C to -15°C protected from light upon receipt. After thawing, mix thoroughly before using. For lot specific expiry date, refer to package label, Certificate of Analysis or Product Specification Form.

Instrument Capability

ROX

Applied Biosystems 5700
Applied Biosystems 7000
Applied Biosystems 7300
Applied Biosystems 7700
Applied Biosystems 7900
Applied Biosystems 7900HT
Applied Biosystems 7900 HT Fast
Applied Biosystems StepOne™
Applied Biosystems StepOnePlus™

Low ROX

Applied Biosystems 7500
Applied Biosystems 7500 Fast
Stratagene Mx3000P®
Stratagene Mx3005P™
Stratagene Mx4000™
Applied Biosystems ViiA 7
Applied Biosystems QuantStudio™
Agilent AriaMx
Douglas Scientific IntelliQube®
QIAGEN Rotor-Gene Q

No ROX

Quantabio Q
BioRad CFX
Roche LightCycler 480
Other

Bio-Rad iCycler iQ systems

BioRad iCycler iQ™
BioRad MyiQ™
BioRad iQ™5

Related Resources

Product Manuals

Product Flyers

Safety Data Sheets (SDS)

CofA (PSF)

Publications

FAQs
Ordering Information
Product

Kit Size

Order Info

PerfeCTa SYBR Green SuperMix for iQ

100 x 50 μL rxns (2 x 1.25 mL)

500 x 50 μL rxns (10 x 1.25 mL)

2000 x 50 μL rxns (1 x 50 mL)

PerfeCTa SYBR Green SuperMix

100 x 50 μL rxns (2 x 1.25 mL)

500 x 50 μL rxns (10 x 1.25 mL)

2000 x 50 μL rxns (1 x 50 mL)

PerfeCTa SYBR Green SuperMix ROX

100 x 50 μL rxns (2 x 1.25 mL)

500 x 50 μL rxns (10 x 1.25 mL)

2000 x 50 μL rxns (1 x 50 mL)

PerfeCTa SYBR Green SuperMix Low ROX

100 x 50 μL rxns (2 x 1.25 mL)

500 x 50 μL rxns (10 x 1.25 mL)

2000 x 50 μL rxns (1 x 50 mL)