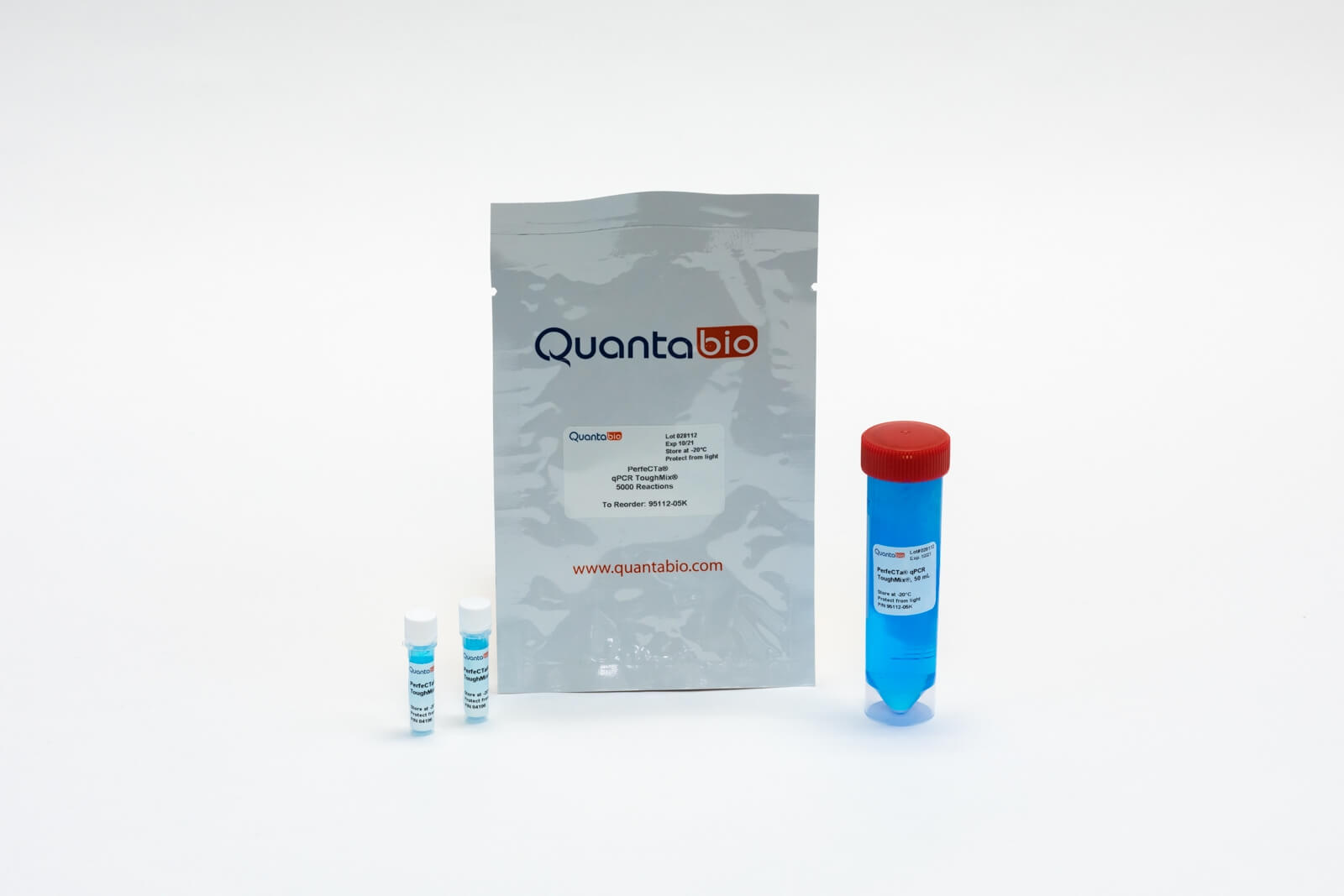 PerfeCTa qPCR ToughMix
Exceptional Stability for Tough-Tested real-time PCR
Features & Benefits
ToughMix additives neutralize PCR inhibitors to ensure reliable assay performance with a spectrum of starting materials including: clinical specimens, plants, soil, environmental or complex food matrices
Superior assay sensitivity and target precision with AccuStart™ II enzyme technology – maximum-yielding, engineered Taq DNA polymerase with stringent, ultrapure antibody hotstart
Easy-to-use 2X concentrated master mixes with AccuVue™ plate loading dye and optimized passive reference dye for simplified reaction setup
Supports efficient vortex mixing with proprietary anti-foaming technology
Consistent and reliable performance with exceptional reagent stability (uninhibited after 20X freeze-thaw or 30 days at 22°C)
PerfeCTa qPCR ToughMix is intended for molecular biology applications. This product is not intended for the diagnosis, prevention or treatment of a disease.
Instrument compatibility 
PerfeCTa qPCR ToughMix – ROX
ROX
Applied Biosystems 5700
Applied Biosystems 7300
Applied Biosystems 7900
Applied Biosystems 7900 HT Fast
Applied Biosystems StepOnePlus™
PerfeCTa qPCR ToughMix Low-ROX
Low ROX
Applied Biosystems 7500
Applied Biosystems 7500 Fast
Stratagene Mx3000P®
Stratagene Mx3005P™
Stratagene Mx4000™
Applied Biosystems ViiA 7
Applied Biosystems QuantStudio™
Agilent AriaMx
Douglas Scientific IntelliQube®
PerfeCTa qPCR ToughMix 
No ROX
Quantabio Q
BioRad CFX
Roche LightCycler 480
QIAGEN Rotor-Gene Q
Other
PerfeCTa qPCR ToughMix is available in formulations containing UNG (uracil-N-glycosylase). To learn more or request a sample, visit the product page
What Scientists are Saying
PerfeCTa qPCR ToughMix
"Higher sensitivity, positives at a lower Cq. Great results with plant DNA with high inhibition level."
Q RT-PCR machine in Mbabane Swaziland
We had the pleasure of testing out the ToughMix Mastermix and the "Q" RT-PCR machine in Mbabane Swaziland in our Tuberculosis Centre of Excellence." As it's name implies, the ToughMix stood up to its name and made the 38 hour trip from Houston to Mbabane, Swaziland and had beautiful Ct curves. Similarly, the Q PCR machine was an ease to travel with as carry on luggage. It's 25 minute run gave Ct curves identical to our existing, and much bulkier, RT-PCR machine that was already on site in Swaziland. Considering it's size, intuitive software, and near perfect reproducible Ct curves, we've decided to add the Q as our workhorse RT-PCR machine
PerfeCTa qPCR ToughMix
"This eliminates a costly and time consuming step to remove inhibitors manually, so it has saved us money on reagents and time for our small lab."