PerfeCTa NGS Quantification Kit
Features & Benefits
Precise quantification of adapter-tagged library molecules
Accurate and sensitive method for NGS library quantification
Stabilized, prediluted standards for convenient use
Consistency across a broad range of samples
PerfeCTa NGS Quantification Kit is intended for molecular biology applications. This product is not intended for the diagnosis, prevention or treatment of a disease.
Description
Accurate quantification of the number of amplifiable library molecules is the most critical step in the NGS workflow in obtaining high quality read data with next-generation sequencing technologies. The PerfeCTa NGS Library Quantification Kit uses real-time PCR to specifically quantify library molecules that possess the appropriate adapter tag at each end. These are the suitable template molecules for either emulsion PCR used for the Ion Torrent platform or Bridge PCR used for Illumina NGS platforms. PerfeCTa NGS Quantification Kits simplify the library quantification process by providing stabilized, pre-diluted standards, pre-qualified primer sets, and an optimized dilution buffer for your NGS library samples. This minimizes pipetting errors and ensures reproducible and precise qPCR results, even with dilute samples. The robust qPCR performance of PerfeCTa SYBR Green SuperMix provides accurate quantification of NGS libraries with varying fragment sizes or GC content. A common problem with some NGS library quantification protocols is the use of DNA standards that are too concentrated and generate qPCR data that are outside of the linear dynamic range for many qPCR instruments. Improper baseline settings result in compressions between the highest concentrated DNA standards that in turn give rise to inflated PCR efficiencies and inaccurate library quantification results. The NGS DNA standards supplied with the PerfeCTa NGS Library Quantification Kits have been carefully selected to avoid these artifacts and produce NGS library standard curves with exceptionally high linear regression correlation coefficients. The DNA standard for Illumina NGS platforms generates a 426-bp amplicon (48.8% GC).
Primer sequences correspond to the "P5" and ""P7" primer sequences for Illumina sequencing libraries:
Illumina forward: 5'-AATGATACGGCGACCACCGA-3'
Illumina reverse: 5'-CAAGCAGAAGACGGCATACGA-3'
Performance Data
qPCR amplification of the supplied DNA standards
---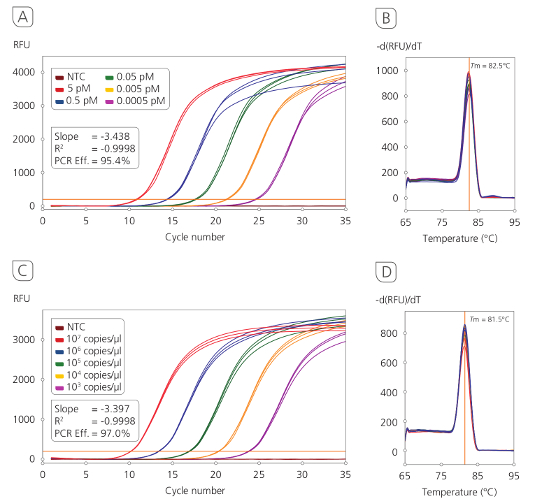 PerfeCTa NGS Library Quantification Kit Performance
qPCR amplification of each of the five supplied DNA standards for Illumina NGS libraries (panel A) or Ion Torrent libraries (panel C) were carried out with the supplied primer sets (300 nM final concentration) and PerfeCta SYBR Green SuperMix in 20-uL reaction volumes on a Bio-Rad CFX-96. Reactions were incubated for 5 min at 95°C followed by 35 cycles of: 95°C, 10s; 60°C, 20s; 45s, 72°C. Real-time fluorescence data was collected and analyzed at completion of the 72°C extension step. After completion of PCR, a dissociation (melt) curve was performed to verify amplification of a single specific product (panels B and D).
---
Download the full Poster
Rapid and accurate quantification of Illumina NGS libraries using the Q real-time qPCR Instrument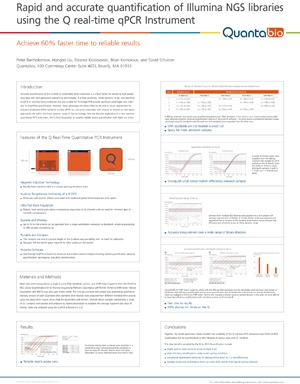 Details
Contents

Library dilution buffer (10X)
Illumina primer mix
Illumina Standards 1-5
qPCR reagent (either standard, ROX, or Low-ROX)

Storage & Handling

Kit components are stable for 2 years when stored in a constant temperature freezer at or below -20°C, protected from light. For convenience, they may be stored unfrozen at 4ºC for up to 6 months. Reagent performance is unaffected by repetitive (>20X) freeze thaw. Prevent photobleaching of the SYBR Green I dye by avoiding prolonged exposure to light.

Instrument Capability

ROX

Applied Biosystems 5700
Applied Biosystems 7000
Applied Biosystems 7300
Applied Biosystems 7700
Applied Biosystems 7900
Applied Biosystems 7900HT
Applied Biosystems 7900 HT Fast
Applied Biosystems StepOne™
Applied Biosystems StepOnePlus™

Low ROX

Applied Biosystems 7500
Applied Biosystems 7500 Fast
Stratagene Mx3000P®
Stratagene Mx3005P™
Stratagene Mx4000™
Applied Biosystems ViiA 7
Applied Biosystems QuantStudio™
Agilent AriaMx
Douglas Scientific IntelliQube®
QIAGEN Rotor-Gene Q

No ROX

Quantabio Q
BioRad CFX
Roche LightCycler 480
Other

Bio-Rad iCycler iQ systems

BioRad iCycler iQ™
BioRad MyiQ™
BioRad iQ™5

Related Resources

Product Manuals

Technical Notes

Product Flyers

Publications
Ordering Information
Product

Kit Size

Order Info

PerfeCTa NGS Quantification Kit - Illumina

PerfeCTa NGS Quantification Kit - Illumina/ROX

PerfeCTa NGS Quantification Kit - Illumina/Low ROX