Quantabio invites you to join us at Analytica 2022 to check out our latest product technologies, designed to improve PCR and NGS workflows.
---
Setting New Boundaries of Detection

Quantabio's introduction of next generation qScript Ultra reagents push the envelope of sensitivity and reproducibility at incredible speed. The newly engineered RT enzyme, in these mixes, provides the ability to overcome challenging secondary structures in just 10 minutes.
---
sparQ NGS Workflow Solutions –  Library Prep Simplified
Add a sparQ to your genome and transcriptome sequencing workflow!
Quantabio's sparQ NGS products accelerates library prep with fast and easy protocols to maximize efficiency and minimize bias. The NGS technology also delivers excellent sequencing performance from a wide range of sample inputs and applications.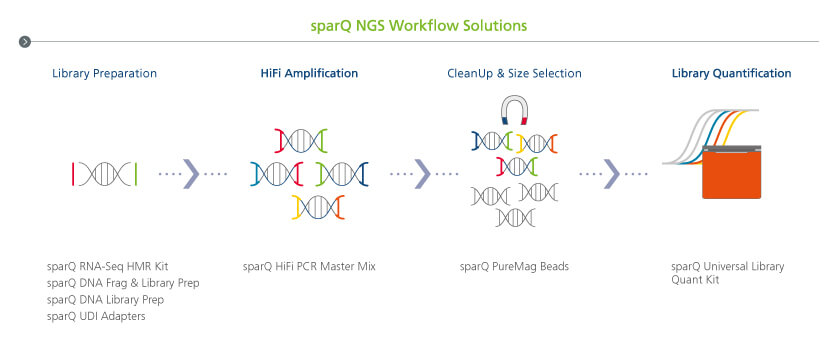 ---
Featured Products

sparQ RNA-Seq HMR Kit

Ultra FAST RNA library prep with integrated rRNA & globin depletion
 

High quality directional RNA library prep in 5 hours for sequencer-ready libraries in a single day

Simple workflow with 3-tube setup for reduced handling errors

Efficient and integrated removal of rRNA and globin mRNA from human/mouse/rat (HMR) samples, detected at 0-3%

Improved yield, coverage uniformity and unique transcript identification for degraded and limited quantity samples, as low as 1 ng

qScript Ultra SuperMix

Faster, better, tougher next generation cDNA SuperMix for first strand cDNA synthesis
 

Enhanced Thermostability – Engineered for RT activity up to 65°C, overcoming challenging secondary structures

Superior Speed – 10 minute reaction time with a total protocol time of 13 minutes

Maximum Yield & Sensitivity – Wide dynamic range with no loss in cDNA abundance linearity from total RNA 2.5 ug – 1 pg.

Ultimate Inhibitor Resistance – Overcome a wide array of PCR inhibitors (salt, heparin, melanin, etc.)

Balanced Coverage of Long Transcripts – Unbiased representation of the transcriptome in cDNA product

Ease of Use – Single tube mix with all required components for cDNA synthesis except RNA template)