sparQ Universal Library Quant Kit
Fastest qPCR-based library quantification in 40 minutes
Faster time to results – 50% shorter run time than traditional cycling protocols
Accurate, reliable quantification of NGS libraries of various sizes and GC-content
High amplification efficiency across a wide linear dynamic range
Stabilized, ready-to-use sparQ Universal Fast Mastermix to reduce pipetting steps
Superior run to run uniformity ensuring highly precise measurements
sparQ Universal Library Quant Kit is intended for molecular biology applications. This product is not intended for the diagnosis, prevention or treatment of a disease.
Faster run time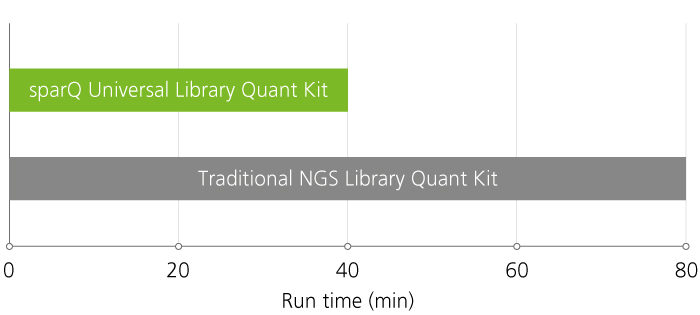 Comparison of average qPCR run time for library quantification. sparQ Universal Library Quant Kit uses fast cycling protocol, allowing results to be achieved in 40 minutes versus 1 hour and 20 minutes with the traditional NGS Library Quant Kit.
---
Equivalent performance across cyclers: sparQ vs Kapa Library Quantification Kit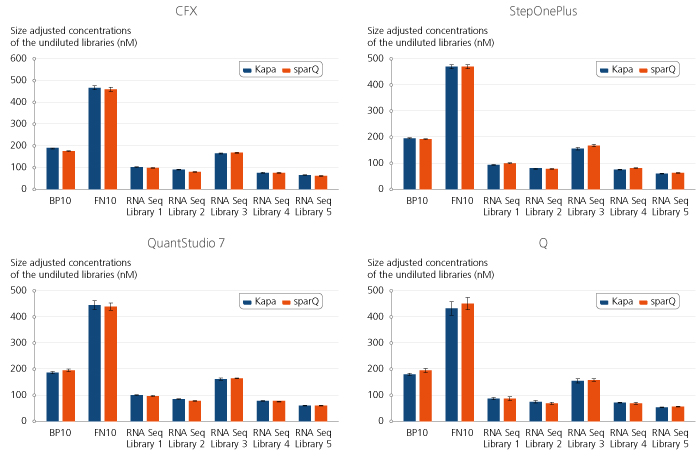 Seven Libraries (2 DNA, 5 RNA) were prepared and each quantified using both sparQ Universal Library Quant Kit and Kapa™ Library Quantaification Kit according to each manufacturer's cycling protocol. Both kits produced library quantification results that were concordant to one another across a range of real time qPCR cyclers (BioRad® CFX, Applied Biosystems StepOne Plus™, Applied Biosystems QuantStudio™ 7 and Quantabio Q).