repliQa HiFi ToughMix is a next generation, ultrafast and accurate HiFi mastermix for PCR and cloning. Combined with inhibitor resistance and GC tolerance technologies, this all-around mastermix has proven to accelerate the field of Genomics.
Product Features
High Fidelity:

>90x more than reqular Taq
Speed:

2-3x faster PCR
Tough Tested:

Tolerant to a wide range of PCR inhibitors
Yield and Sensitivity:

Generates higher amounts of DNA. More copies
Long Range:

Can create copies of very long pieces of DNA
Benefits
Better sequencing results
Significant decrease in time to perform experiments
Can amplify crude or tough starting samples
Better PCR results and analysis, can amplify with low DNA inputs
Enables larger DNA fragments to be amplified and analyzed
---
Watch the Webinar
Accelerating Genomic Discoveries Through Innovation: New repliQa HiFi ToughMix
Monil Patel
Global Product Manager for PCR, qPCR and cDNA synthesis
Quantabio
Quantabio introduces the newest HiFi master mix capable of fast amplification with extension rates as short as 1 kb/sec while overcoming common PCR inhibitors.
---
Learn how the new repliQa HiFi ToughMix can accelerate research results with PCR extension times as fast as 1 kb/sec while overcoming common PCR inhibitors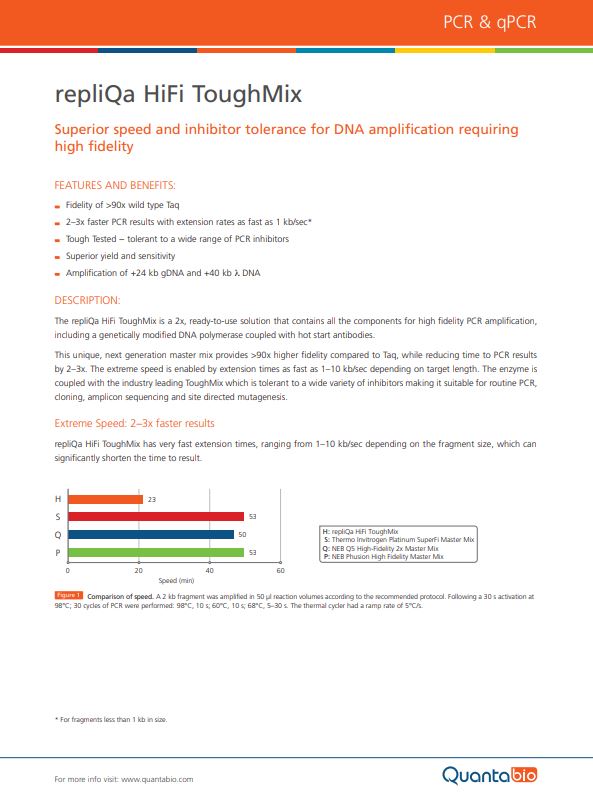 Customer Testimonials
I used NEB Q5 for the same plasmid for PCR, same annealing temperature. Only the repliQa HiFi toughMix gave me the correct size products. It is very fast and works much better than NEB Q5 for difficult plasmids in PCR.
Dr. Kara C.
UT Southwestern Medical Center