Get ready for next generation sequencing success with sparQ PureMag Beads.
sparQ PureMag Beads is a fast and reliable nucleic acid purification system for reaction cleanup and size selection in Next Generation Sequencing (NGS) workflows. Based on the reversible nucleic acid-binding properties of magnetic beads, this product can be used to quickly remove primers, primer-dimers, unincorporated nucleotides, salts, adapters and adapter-dimers from NGS library prep reactions to improve downstream sequencing performance.
Rely on quality Quantabio manufactured reagents that reduce process time and hands-on time, maximize assay performance, minimize errors and deliver reliable, reproducible results.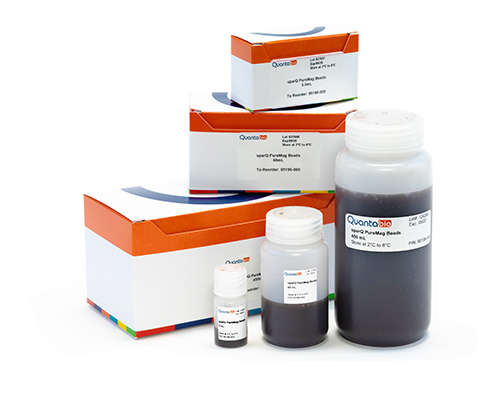 Features & Benefits
High recovery of DNA fragments greater than 100 bp
Efficient removal of unwanted components from adapter ligation and PCR reactions
Consistent single or double-sided size selection
Seamless integration into existing NGS workflows with little or no protocol change
Easy-to-use and compatible with manual processing or automated liquid handling robots
Cost effective alternative to AMPure® XP with equivalent performance
---
Featured Publication
Customer Testimonials
Beads performed as well in my tests as Ampure XP which I consider to be the gold standard. Impressive results given the lower price for sparQ PureMag Beads.
Director of Sequencing Technology
University of Southern California